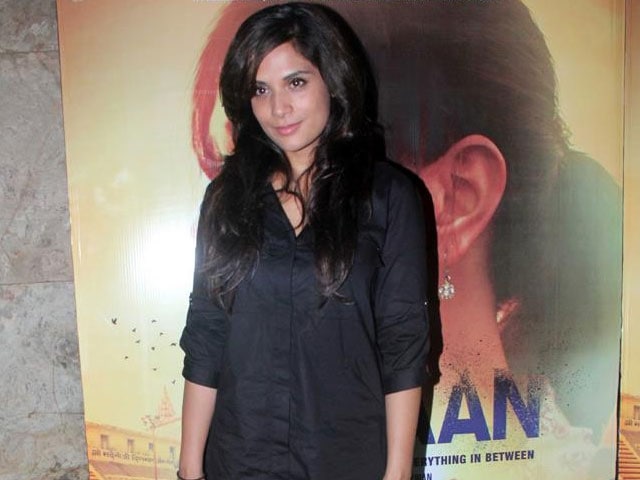 New Delhi:
She has carved a permanent place in the world of showbiz by taking an unconventional route. From portraying a hot-headed don in
Fukrey
to a small town girl fighting taboos around sex in
Masaan
, actress Richa Chadha says she is not averse to the idea of doing a commercial movie, but 'can never be a part' of a brain-dead film.
"I'm doing
Cabaret
, which is a commercial film with lots of songs and dancing. I'm also singing for the movie. But I don't think I can ever be a part of a brain-dead film, where all I have to do is stand or be a sexy girl in a bikini," Richa told IANS here.
Richa has scaled new heights with
Masaan
, a story of how lives of four people of a small town converge and how they find a way to a brighter future. The film, which marks Neeraj Ghaywan's debut as a director, left its imprint internationally by winning two awards - Promising Future Prize and the International Federation of Film Critics (FIPRESCI) Award - at Cannes International Film Festival earlier this year.
The actress, who made her debut in Bollywood with
Oye Lucky! Lucky Oye!
in 2008, said that with acclaim, comes the responsibility to maintain the standard of her work.
"I'm reading scripts. I don't want to rush into anything. People expect some amount of quality, so I can't just sign anything," said the actress who originally hails from Delhi.
But that won't deter the actress, who has used her rustic charm to win hearts with her act in movies like
Gangs of Wasseypur
and
Ram-Leela
, from experimenting with her art. She has an ideology - experiment while you are young.
"I want to do different things. I believe you can experiment while you are young. I played the role of Bholi Punjaban in
Fukrey
when I was 24. I think if you pass a certain age, then experimenting becomes difficult as a perception is formed and people want to see you in that only," said Richa, who is in her late 20s.
For her, the deal breaker is 'a good script, good director and a good role in a good script'.
The actress also accepts the presence of a 'women-driven wave' in Bollywood.
"Today, it is not difficult to tell somebody that we want to make a film which has two girls in the lead. Maybe five years ago there was no market for women-oriented films. And I think the credit goes to all actresses whether it is Kangana Ranaut, Deepika Padukone, Priyanka Chopra or Alia Bhatt. Everybody has done their bit to promote it," Richa said.
Besides
Cabaret
, which also stars former cricketer S Sreesanth, the actress will be seen in Sudhir Mishra's next film
Aur Devdas
.