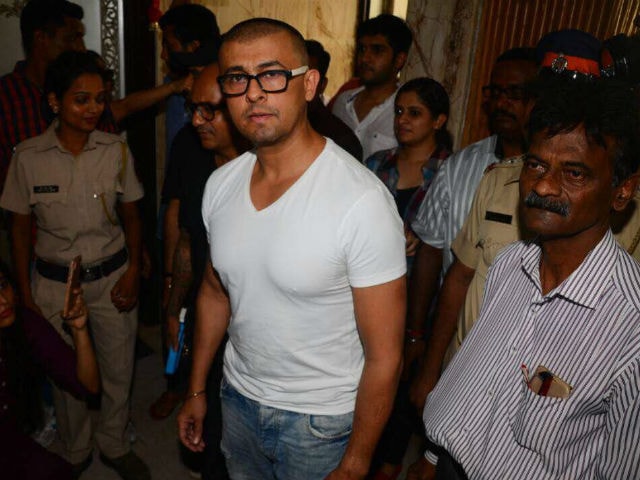 Highlights
'Huge respect for this, Sonu Nigam,' tweeted Ranvir Shorey
"Jai Ho, Sonu Nigam," tweeted Anupam Kher
While actress Khushboo asked Sonu Nigam to "stay strong"
New Delhi:
Singer Sonu Nigam is now bald
, having shaved his head in defiance of a 'fatwa' issued by a Muslim cleric who offered Rs 10 lakh as a reward for tonsuring the singer and garlanding with shoes. Mr Nigam has been savaged on social media after complaining of the use of loudspeakers in the
azaan
or the morning call to prayer on Monday. On Wednesday afternoon, he addressed the press and, with cameras present, had hairstylist Aalim Hakim rid him of his hair. The 42-year-old singer had promised to do this in a tweet on the morning of Wednesday, saying "Keep your 10 lakhs ready maulvi." Keeping his word has earned Sonu Nigam Twitter's respect (
barring the trolls
and those who promptly turned the occasion into a joke).
Actor Ranvir Shorey tweeted: "Huge respect for this, Sonu Nigam" while veteran actor Anupam Kher wrote: "
Bande mein hai dum
." Actress-producer Khushboo also tweeted saying: "Stay strong as you always have been. Nothing can take away your strength and grit." The prevailing sentiment on social media matches theirs. "Bravo, Sonu Nigam shaves his head. Now where is the Maulvi who issued Fatwa of 10 lakhs hiding? Looks like these fatwas are issued for publicity," read a tweet.
This is what Ranvir Shorey, Anupam Kher and Khushboo tweeted:
Huge #respect for this, @sonunigam. https://t.co/urwc58rQw8

- रanviर_ डhoरeय_ (@RanvirShorey) April 19, 2017
Bande mein hai dum. Jai Ho Sonu Nigam.:) https://t.co/Fcl4wAf8Ht

— Anupam Kher (@AnupamPkher) April 19, 2017
@sonunigam stay strong as you always have been..nothing can take away ur strength n grit..love u my little brother

— khushbusundar (@khushsundar) April 19, 2017
Here are some of the tweets supporting Sonu Nigam:
I'M so proud of these two @sonunigam and Aalim Hakim. That is a slipper shot on the trolls who use religion as their shield. https://t.co/WVqrR7GyRs

- Adithya (@TennetiAdithya) April 19, 2017
So apparently our lad @sonunigam has indeed gotten his hair cut and I must say, he can surely rock ANY look!!! #SonuNigam#Rockstarpic.twitter.com/Jb5JfIEZPs

- Harshvardhan Saini (@harsh_vardhan) April 19, 2017
@sonunigam Have always been a fan of your talent..now also your Character
Proud of you Bro.

- Shiro (@Sofarsoogud) April 19, 2017
.@sonunigam slaps Maulavi by shaving his head. Now where is 10 lakhs Maulavi shabh?#sonunigampic.twitter.com/p5MUgTfDtX

- Yogi Blitz (@neelamy9529) April 19, 2017
Not everyone applauded.
A section of Twitter accused the singer of seeking attention
:
Sonu Nigam got himself a summer haircut and lots of attention.
Nice.

- Pooja (@IamP00ja) April 19, 2017
Publicity Hungry and completely jobless @sonunigam takes bigotry to new levels. What a clown pic.twitter.com/77eBQdbxF7

- Vinay Kumar Dokania (@vinaydokania) April 19, 2017
Other gentlemen who've similarly lost their hair do approve, it appears:
Well done Sonu Nigam, we are proud of you ! pic.twitter.com/lN0fy2yh7L

- Virender Sahwag (@virendersahwag) April 19, 2017
Speaking to the press before his haircut, Sonu Nigam said, "Shaving hair is no challenge or negativity, it's a symbolic move - asking, what are you making this country? What are these fatwas?" He also clarified that "
Azaan
and
aarti
are important, loudspeakers are not."
On Monday, Sonu Nigam used terms and phrases like "
gundagardi
" and "forced religiousness" after he tweeted against the use of loudspeakers in mosques, temples and gurudwaras. "I consider myself secular, neither am I right wing or left wing and there are very few people like me, I am actually the minority community," Sonu said on Wednesday afternoon, asking that his tweets not be misinterpreted.
Read Sonu Nigam's tweets from Monday:
God bless everyone. I'm not a Muslim and I have to be woken up by the Azaan in the morning. When will this forced religiousness end in India

- Sonu Nigam (@sonunigam) April 16, 2017
And by the way Mohammed did not have electricity when he made Islam.. Why do I have to have this cacophony after Edison?

- Sonu Nigam (@sonunigam) April 17, 2017
I don't believe in any temple or gurudwara using electricity To wake up people who don't follow the religion . Why then..? Honest? True?

- Sonu Nigam (@sonunigam) April 17, 2017
Gundagardi hai bus...

- Sonu Nigam (@sonunigam) April 17, 2017
Sonu Nigam recently featured on music reality show
Indian Idol 9
and
also collaborated with Sachin Tendulkar for the cricketer's singing debut
.