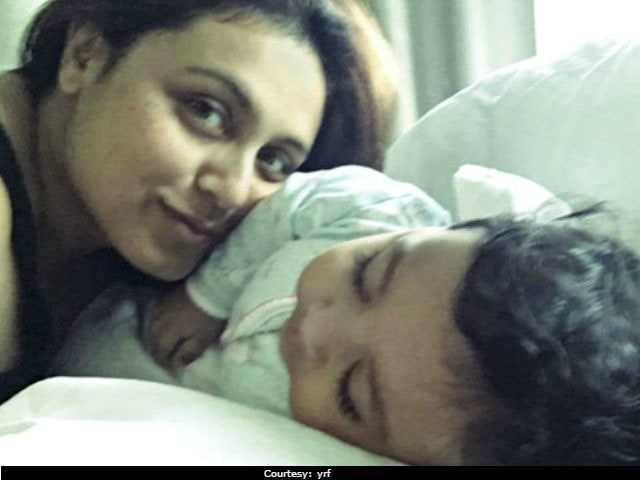 Highlights
Rani said motherhood have been the 'happiest years of (her) life'
'I don't like saying no to my fans,' said Rani
'Especially when they ask me to post pictures,' she added
New Delhi:
Actress Rani Mukerji
, who is celebrating her 39th birthday, said in a Facebook live chat on Monday that pregnancy and motherhood have been the 'happiest years of (her) life' and explained why we've seen so little of her daughter, Adira. Rani, star of films such as
Black
and
Bunty Aur Babli
, married filmmaker Aditya Chopra in 2014. Adira was born in 2015. The family is fiercely private and Adorable has been carefully shielded from the public gaze.
Rani Mukerji
, who is not on social media, used Yash Raj Films' Facebook page to chat with fans, answering questions about her personal and professional life. Rani is having a quiet birthday at home with her family and her interaction with fans on Monday was one of those public moments that have become increasingly rare and brief since she married and had a baby.
Rani revealed that the lack of pictures of Adira is at the behest of her famously reclusive husband. "I am not on social media. I don't post pictures of my daughter because my husband is a very private person and I respect that. Also, I don't like saying no to my fans, especially when they ask me to post pictures," she said.
In response to a question on motherhood, Rani said, "It feels great. The last two and a half years - nine months of pregnancy and one and a half years of motherhood - have been the happiest years of my life. I enjoy seeing Adira grow, reach new milestones each day."
"It's amazing being a mother; you change overnight because the experience teaches you on a daily basis. I have become stronger and I have also mellowed down. But a lot of things come with being a mother. I'm looking forward to my journey of raising Adira, so it's going to be fun," she said.
Last year,
Rani Mukerji wrote a letter to Adira
, shared again on Yash Raj Films' social media.
Rani Mukerji Chopra writes a heartfelt note to her daughter Adira on the eve of her first birthday. pic.twitter.com/XNhf14DNdO

— Yash Raj Films (@yrf) December 8, 2016
Rani's last film was 2014 thriller
Mardaani
. She will begin filming her new project
Hichki
in April.
(With inputs from IANS)