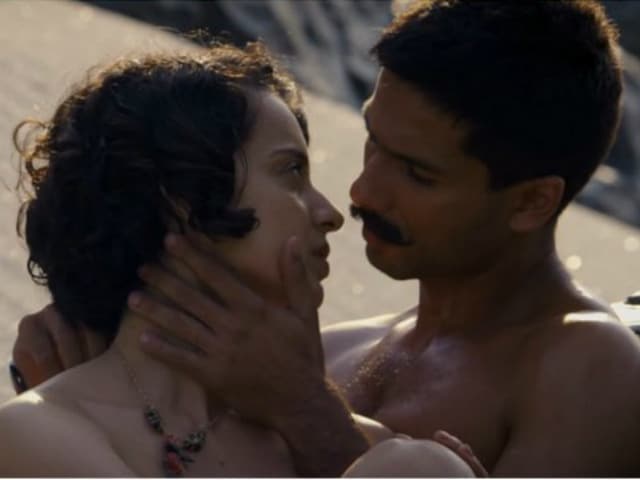 Highlights
The song features the characters played by Kangana and Shahid
The song has been shot in Arunachal Pradesh
Arijit Singh sings, music and lyrics by Vishal Bhardwaj and Gulzar
New Delhi:
Yeh Ishq Hai
, the new song
from upcoming film Rangoon
, is tenderly sung and tenderly shot. The song features the characters played by Kangana Ranaut and Shahid Kapoor - an actress named Jaanbaaz Miss Julia and a soldier named Nawab Malik - falling in love and lust in the military trenches of World War II-era Burma. Miss Julia has been sent to entertain the troops by her producer and paramour, played by a nattily-dressed Saif Ali Khan, whose impeccable moustache is soon eclipsed by the rugged charms of Nawab Malik. The actress and the soldier discover playfulness and passion amid the local colour. Cleverly filmed by director Vishal Bhardwaj,
Yes Ishq Hai
suggests much but reveals little.
The rocky wilderness
, so starkly beautiful, where Miss Julia and Nawab Malik share intimate moments is actually Arunachal Pradesh, where much of
Rangoon
was filmed. Shooting was difficult, the film's cast has admitted.
Arijit Singh sings, music and lyrics by Vishal Bhardwaj and Gulzar.
Video: Watch Kangana Ranaut and Shahid Kapoor in Yeh Ishq Hai from Rangoon:
A female version of Yeh Ish Hai, sung by Rekha Bhardwaj, is listed on the film's soundtrack but hasn't been released yet. Kangana Ranaut featured as the spunky Miss Julia in the previous song released, the
explosively-titled Bloody Hell
. 'Bloody hell' is a reaction better applied to
Yes Ishq Hai
, if you ask us.
Rangoon is less a war drama and more a love triangle, director Vishal Bhardwaj has revealed. Mr Bhardwaj directed Saif in his 2006 film
Omkara
and Shahid Kapoor in
Kaminey
and
Haider
. This is his first collaboration with Kangana Ranaut.
Rangoon
releases on February 24.