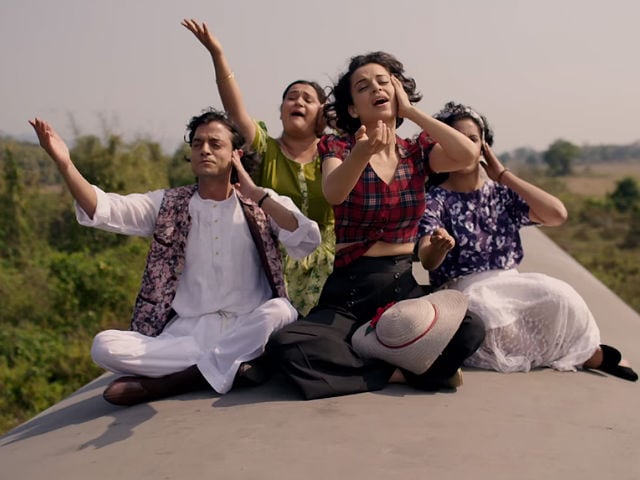 Highlights
Kangana stars as an actress Miss Julia in Rangoon
Tippa is the fourth song which has been released from Rangoon
Tippa has been sung by Sukhwinder Singh, Rekha Bhardwaj
New Delhi:
Tippa
, the new song from Kangana Ranaut's
Rangoon
has been entirely shot inside a train.
Rangoon is set against the backdrop of World War 2
and casts Kangana as Miss Julia, a 1940s film star. The trailer of Vishal Bhardwaj's war-drama showed that Julia is forced to venture on a trip to Burma, where the British Indian army were up against Subhash Chandra Bose's Indian National Army. Kangana appeared rather displeased and even tried to escape from a running train. The new song
Tippa
is a detailed account of Miss Julia's predicament inside the train to Burma.
Shahid Kapoor
stars as a soldier, Nawab Malik, and appears to be in charge of Miss Julia's safety during her trip.
The new
song Tippa begins with an upset Miss Julia refusing to come out of her train ka dibba. Soon her teammates cheer her up and then onwards, there's no stopping her - she sings her heart out and dances like no one's watching. Meanwhile, Shahid features in brief snippets in the song and is never spotted smiling. Tippa is also reminiscent of Chhaiya Chhaiya from Shah Rukh Khan's 1998 film Dil Se.... Shah Rukh and Malaika Arora Khan also featured in a similar setting and danced atop a train the 1990s hit song.


Video: Watch Rangoon Song Tippa:






Video: Watch the trailer of Rangoon:




Ahead of Tippa, Rangoon also released songs titled Bloody Hell, Yeh Ishq Hai and Mere Miyan Gaye England, each with a different flavour.



Meanwhile, Rangoon also stars actor Saif Ali Khan in the role of Miss Julia's mentor. Kangana shared romantic scenes with both Shahid and Saif in the film's trailer and songs, and hints at a love-triangle. Sung by Sukhwinder Singh, Rekha Bhardwaj, Sunidhi Chauhan and O.S. Arun, Tippa has lyrics by Gulzar.

Rangoon is scheduled for February 10.