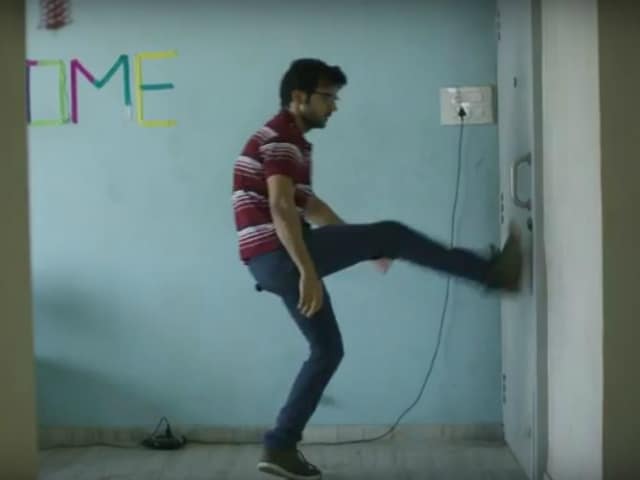 Highlights
The trailer of Rajkummar Rao's new film Trapped released on Wednesday
The film is directed by Vikramaditya Motwane
Trapped is scheduled to release on March 17
New Delhi:
The trailer of
Rajkummar Rao's new film Trapped
is actually an intense clip which documents the helplessness of the protagonist, who accidentally gets locked in one of the top floors of a Mumbai high rise. The trailer begins with Rajkummar Rao's character prepping to leave home, and he does but re-enters to fetch his phone. As the camera focusses on the door, it becomes apparent to the viewers that the protagonist is merely seconds away from getting locked in - after all, he was in a rush and left the keys hanging at the door. The eerie setting of the apartment will also make you slightly uncomfortable. The more you want to try and help a 'trapped' Rajkummar Rao, the more powerless you feel.
Rajkummar can be seen screaming out loud for help and eventually surviving on insects. He even drops the television from the balcony and lights a fire on the building to attract attention but there's zero response.
Video: Watch the trailer of Rajkummar Rao's Trapped
:
Meanwhile, Bollywood stars like Ranveer Singh and Richa Chadha are already fans of the trailer of
Trapped
. Ranveer, who has worked with director Vikramaditya Motwane in
Lootera
, said it's "scintillating" while Richa re-tweeted Rajkummar's tweet.
BOOM!!!
FROM THE DIRECTOR OF 'UDAAN' & 'LOOTERA'...Enough said https://t.co/4FI4rYsm49#Trapped@RajkummarRao at his scintillating best!

— Ranveer Singh (@RanveerOfficial) February 22, 2017
In an interview with news agency PTI, director Vikramaditya Motwane said that he found the idea of a survival-thriller to be really "cool." "I thought it was such a cool concept, why hasn't anyone thought about it before, why hasn't a film made on this topic especially in a city like Mumbai? We have high rises and all, the place is warm but is also so cold. As people, we can be unforgiving about these kind of things. The idea just grabbed me. I kept thinking about the film," said Mr Motwani.
Rajkummar Rao's character undergoes noticeable physical transformation in the trailer. Talking about his character, he told PTI that he was surviving on carrot and coffee. "I was surviving on very little food. Probably coffee and carrot. But it was a great experience as an actor. This was something I always wanted to do. I am a big fan of survival dramas like Cast Away, Buried or 127 Hours. I was after his life since Udaan. I wanted to play the main guy but he said no you look older. Then for Lootera, he said we will do something else. Then finally he told me this is the plan and I kept calling him," said the
Aligarh
actor.
Directed by Vikramaditya Motwane,
Trapped
made a world premiere at the 18th Jio MAMI Mumbai International Film Festival,
where it received a standing ovation
.
Trapped
is a 105-minute long movie, which has been shot in just 22 days across Mumbai.
Rajkummar Rao's
Trapped
is scheduled to release on March 17.