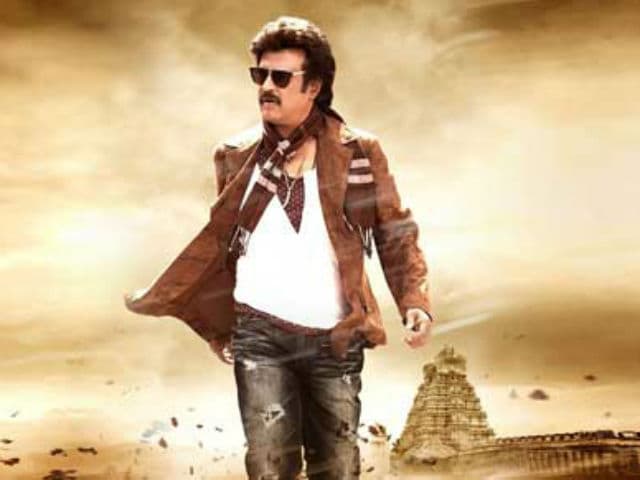 Highlights
Rajinikanth was born Shivaji Rao Gaekwad on December 12, 1950
He was one of Tamil cinema's most popular stars by the end of the '70s
Rajinikanths 2.0 will release on October next year
New Delhi:
At first glance,
Rajinikanth, 66 today,
seems an unlikely superstar. He's not conventionally handsome, has few starry airs and displays a remarkable absence of flashiness. Those who haven't watched a Rajini movie are left perplexed by the frenzied crowds every new film draws. But there's no denying Rajinikanth's mass appeal, extending up and beyond the south of India, a feat managed by only a handful of non-Bollywood actors.
Rajinikanth, who is less a force of nature and more an entire weather system,
released the first look of his new film 2.0
, co-starring Akshay Kumar, last month. He returned to the screen earlier this year in and as Kabali, a Malaysia-based mafia don. Directed by Pa Ranjith, the film co-starred Radhika Apte and Dhansika. Tickets were sold out a week in advance and several enterprising start-ups in Chennai and Bengaluru gave employees the day off. Shows began at 6am, the queues started at 4am. Rajini fever ran high, as it does. Here's how Rajinikanth's journey began.
The son of a police constable, Rajinikanth came from the most humble of beginnings. He was born Shivaji Rao Gaekwad on December 12, 1950. His parents were Maharashtrians living in Bangalore. His mother died when Rajinikanth was just five and the impoverished family struggled for years to make ends meet. A young Rajinikanth worked a number of odd jobs before ending up as a bus conductor with Karnataka's transport corporation. A born performer, Rajinikanth would keep his bus passengers entertained and the first suggestions that he become an actor came from them. He began dabbling in Kannada stage plays, notably playing the villainous Duryodhan in an adaptation of Mahabharata.
In 1973, with some financial help from a friend, Rajinikanth joined the Madras Film Institute. At the same time, a stage performance brought him to the attention of director K Balachander who recommended he learn Tamil and cast him in his very first role - as a cancer patient in 1975 Tamil movie
Apoorva Raagangal
. The film won a National Award and Rajinikanth's role, though brief, led to bigger and better things. Over the next few years, Rajinikanth was cast as the villain in movies like
Avargal
and
Moondru Mudichu
. His first lead role was in 1977's Telugu film
Chilakamma Cheppindi
. 1978's
Bairavi
gave him his first lead role in a Tamil film. From then, there was literally no looking back.
Rajinikanth was one of Tamil cinema's most popular stars by the end of the '70s. And then, suddenly, he went into a self-imposed exile. After nearly a decade away from the silver screen, he was coaxed into making a comeback with the blockbuster
Billa
(1980), a remake of Amitabh Bachchan's hit movie
Don
(1978). He went from strength to strength with movies like
Netrikan
and
Murattu Kaalai
. In 1983, he began an on-off relationship with Bollywood, appearing in
Andha Kanoon
opposite Amitabh Bachchan and Hema Malini. He also appeared in
Hum
, with Amitabh Bachchan again, and
Chaalbaaz
opposite Sridevi, his co-star from Tamil movie
Moondru Mudichu
and other films.
Rajinkanth has made movies in Tamil, Kannada, Telugu, Malayalam, Hindi, Bengali and even English, with 1988's ill-fated Hollywood movie
Bloodstone
. However, he has never appeared in a Marathi movie, despite it being his mother-tongue. Rajinikanth's fee for 2007 blockbuster
Sivaji
reportedly made him Asia's second highest paid actor after Jackie Chan. Rajinikanth has not died on-screen for several years now as his directors fear that killing his character would send fans on a rampage. However, this may change with
Kabali
- director Pa Ranjith has revealed that the film has a sad ending and fans are braced for the worst.
After wrapping the shooting schedule of
Kabali
in Malaysia, Rajinikanth was advised a week's rest before he joined the sets of
2.0
, which is the sequel to 2010 blockbuster
Enthiran
. Rajinikanth has been plagued by health problems ever since
Enthiran
released. He spent a month in hospital in 2011, first in Chennai and then in Singapore, while grief-stricken fans prayed for him. He was diagnosed with bronchitis and renal failure. His illness put home production
Rana
, an animated film later released as
Kochadaiyaan
, on hold. After recovering, he made a cameo appearance in Shah Rukh Khan's sci-fi fantasy movie
RA.One
, playing the character of Chitti the robot from
Enthiran
.
Rajinikanth's 2.0,
a sequel to
Enthiran
, is among next year's most-awaited films. Rajinikanth will reprise his double role as scientist Vaseegaran and Chitti.
2.0
, directed by Shankar, a
lso stars Amy Jackson.
Akshay Kumar plays the villainous Dr Richard, a scientist of fearsome appearance, mutated after an experiment goes wrong.
Rajinikanth married his wife Latha on February 26, 1981 in Tirupati. They have two daughters, Aishwarya and Soundarya. Aishwarya is married to actor Dhanush and made her directorial debut with Tamil film
3
, famous for the song
Kolaveri Di
. Soundarya directed her father in
Kochadaiiyaan
which released in April 2013. Rajinikanth received the Padma Vibhushan this year. He also received the Padma Bhushan in 2000. In his 41-year-long career, he has won many awards including Filmfare's Best Tamil Actor in 1984 for
Nallavanuku Nallavan
and the Kalaimamani Award from the Government of Tamil Nadu the same year.
Happy birthday, Rajinikanth.