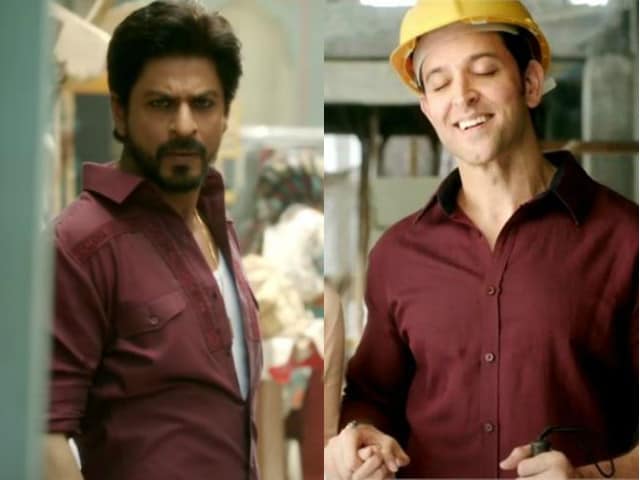 Highlights
Raees and Kaabil will both release on January 25
'It's a logical decision because the 26th is a holiday,' said SRK
'They (Raees) are following us,' said Kaabil producer
New Delhi:
Shah Rukh Khan's Raees
sprung a surprise on Team
Kaabil
on Wednesday, when it was announced at the l
aunch of the film's trailer
that
Raees
,
like Kaabil
, would release on January 25, a day before folks thought it was going to release.
Raees
has already been rescheduled from its original date of July 6, dodging a box office clash with Salman Khan's
Sultan
. A possible Diwali date (previous Diwalis have been reserved for SRK films) was also reportedly passed over because of Karan Johar's
Ae Dil Hai Mushkil
, featuring a cameo by SRK. Republic Day was Team
Raees
' final choice - but, but, but it had already been booked by Hrithik Roshan's
Kaabil
. For months, it seemed that both movies would open the same day, reported negotiations between the producers having failed. Just days ago, it was announced that
Kaabil
had adjusted its date and would open on the evening of January 25. And on Wednesday, at the launch of
Raees
' trailer, it was revealed that SRK's film would also hit screens on the same day. The clash of Titans will take place a day earlier.
Asked at the launch event
, Shah Rukh Khan said, "We had discussed this a long time ago with our exhibitors and distributors. We will be opening in the regular shows and
Kaabil
will open in the evening shows. This is a logical decision because the 26th is a holiday. We had decided that we would reveal the release date only at the launch of the trailer."
Who decided this when is moot, SRK said at the event but Hrithik's filmmaker father Rakesh Roshan, who produces
Kaabil
, might not be pacified. "I didn't know about their date. My distributors said we should come out on January 25 from the evening shows. I didn't know the
Raees
team also planned to change their date," Rakesh Roshan said in an interview to
DNA
.
Box office clashes are a thing in Bollywood now and Mr Roshan appears to think that
Raees
' date change is a deliberate attempt to confront his film. "Whatever dates we are taking, they are following us. I would have never done the same. I belong to an old school of filmmaking and I have given 50 years of my life to the industry. I would never release my film on a day when another filmmaker has already announced their film. I decided to remove
Krrish 4
also from Christmas 2018 because I saw SRK's film is coming that day. I could have easily released my film with
Befikre
or even with
Dangal
if I had to clash. But when I announced the film in February, I saw a clean window in January and hence I picked the date," Mr Roshan told DNA.
Kaabil
is set for a 6 pm release on January 25. In a statement earlier this month, Rakesh Roshan explained his decision: "There have been instances in the past of movies being released mid-week especially if there is a big national holiday following it. My director Sanjay Gupta and I are in agreement on this. After hearing what our distributors have to say, we thought it makes perfect sense go with a January 25 release."
Kaabil
star Hrithik Roshan, whose last film
Mohenjo Daro
went up against Akshay Kumar's Rustom in August, told NDTV earlier this year, when both films were still scheduled for January 26: "It's not the ideal situation but it's happening now and all we can do is communicate with each other and do the best we can." He also said that SRK and he "understand each other."
Kaabil
stars Hrithik and Yami Gautam as a visually-impaired couple.
Meanwhile,
the trailer of Raees
has been given a blockbuster welcome. Shah Rukh Khan plays liquor baron Raees Alam. The film co-stars Pakistani actress Mahira Khan as SRK's love interest Mohsina and Nawazuddin Siddiqui as the cop wo goes after him.
Video: Watch the trailer of Shah Rukh Khan's Raees here
Raees
, directed by Rahul Dholakia, is co-produced by Shah Rukh Khan's Red Chillies Entertainment and Ritesh Sidhwani's Excel Entertainment.