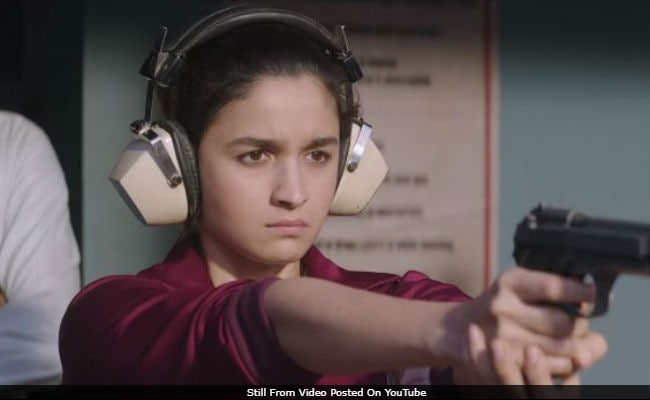 Highlights
"I feel very grateful and extremely happy," she said
Raazi is directed by Meghna Gulzar
Raazi releases this Friday
Mumbai:
In Meghna Gulzar's Raazi, actress Alia Bhatt plays the role of an Indian spy
who marries a Pakistani man. It's an intriguing story based on Harinder Sikka's novel
Calling Sehmat
. In this interview with NDTV.com, Alia praises unsung heroes like Sehmat who risk their lives and fight for the country. She says her biggest takeaway from the film was an appreciation of the selflessness of Sehmat and others like her who put themselves in harm's way for their country. These are the true patriots, says Alia Bhatt. And, by the way, just in case you are among those who think Alia can do no wrong - prepare to be surprised.
Q: Explain to us how is it to work with Meghna Gulzar, what is she like on the set?
Alia Bhatt: "Overall she is in control of everything - she knows exactly what she wants. But she lets the crew do her thing and work at their comfort and pace. She is not one of those directors who is talking on the microphone and screaming at people. She likes to let an actor come and explore the scene. Because we have done so much prep work beforehand and had many conversations, we didn't have to discover many things on the set. Her tones were all discussed and ironed out before I reached the set. That's comforting for an actor - you don't feel alone. Whenever she could she would always control the atmosphere because this is an emotional film, you need a particular kind of an environment when you are shooting a film like
Raazi
."
Q: Meghna said that without you, she would not have made Raazi. Just six years into your acting career you have filmmakers writing roles for you. What's that like?
Alia Bhatt: "
I feel very grateful and extremely happy
. If this film had gone to someone else, then God knows how my journey would have been as an actor. My ultimate goal is to keep my director happy. The only person who is allowed to be selfish on a film set is the director. We all move on, and do other work and other films while she is still working on this one. I have only worked for 48 days, I am doing two other films but the director has just this one film. I feel responsible towards my director. After I watched
Talvar
, I wanted to work with her. That idea that she thought of me, I feel grateful and blessed. I hunt for good directors and writers."
Q: So now who you are looking at next? Anyone, in particular, you want to work with.
Alia Bhatt: "Juhi Chaturvedi (writer of
Vicky Donor, Piku, October
). I love her work, and I am on the hunt (laughs). Juhi, I hope you are reading this - I am looking out for you! I want her to write something for me."
Q: How long does a film stay with you after it's out. When do you move on?
Alia Bhatt: "Oh, it's awful! This experience of letting your film go is tough. Like right now, this phase is such a high, we are together we are being emotional and promoting the film. It's like you are on the top of a mountain and you don't know what to do after it's out. It's like getting over a very serious relationship. I don't snap out of it but I snap into something else, and that's the best way to move on."
Q: How does a film like Raazi affect you?
Alia Bhatt: "A film like this does affect you. Technically, we are living with that story for 48 days, shooting nine scenes a day that's 14 hours a day. I don't have time even to read a book - all you are doing is sleeping and acting. That character becomes a very big reality. Post-shooting a long schedule is when you settle down suddenly the adrenaline is out of your body and you are hit. My father says its like you are treated like a war victim; suddenly you are done with it."
Q: What's your biggest takeaway from Raazi?
Alia Bhatt: "The story of this character! It's such a selfless act. There are not that many selfless deeds that exist in today's world. Some acts that may seem selfless will have a hint of selfishness in it, maybe in a good way. One big takeaway is that I really have respect for those who are day in and day out fighting for the country. I always had respect for them, I have done a trail of the BSF borders, and I have spent time with them. But I never sat back and understood that they have put their lives out there. And there are also so many unsung heroes who have given up their lives, and we have no clue where they are. Just by putting themselves out there in the mouth of danger for us they have done so much for us. We should take a moment to think that do we really understand the true meaning of patriotism. Do we really understand the meaning of it?"
Q: Since Raazi is based on the book Calling Sehmat, why didn't you read the book?
Alia Bhatt: "The book is not available, but the author gave me the book. So I was thought at least I should go through the parts that are in the film. There was no need to get into anything that's not in the movie. My script was my book. The book is quite extensive and goes into other characters' journey."
Q: You have done a variety of roles in your six-year-long career and critics and fans have always praised your work. There are people feel you can do no wrong. What do you want to say to them?
Alia Bhatt: "That's very sweet. Expectations are always difficult to keep up to. I do wrong - I took eleven takes for one scene on the set of Kalank the other day (Laughs). For me, that's wrong because I don't usually take more than three takes. I fumble and stumble but thank you for all your support and hope I don't disappoint you. Hope you watch Raazi, it's very special to my heart."
Watch: Alia Bhatt on Raazi
Raazi
, co-starring Vicky Kaushal, Rajit Kapur and Alia's mother Soni Razdan, releases this week.