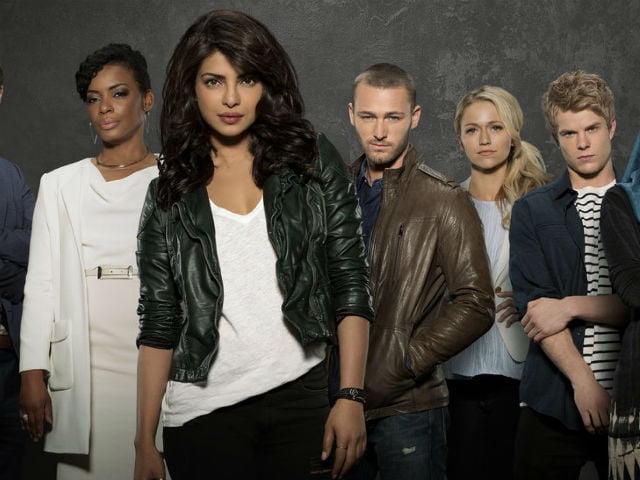 Highlights
Priyanka stars as ex-FBI agent Alex Parrish on Quantico
Her co-stars include Jake McLaughlin and Aunjenue Ellis
She recently made it to the Forbes highest paid list for the series
New Delhi:
It's not just the fans world-wide, even her
Quantico
team is left enthralled by Priyanka Chopra's flawless acting skills
and killer looks.
In a recent eighteen-minute long behind-the-scenes video, her co-stars opened up about how impressed they are with the 34-year-old Bollywood actress.
Show-creator Joshua Safran, while recalling the audition day and Priyanka's impression on him, said, "When she auditioned, she walked in the door and we're like okay 'who is this?'. We're like this is clearly a movie star; it's like every hair on the back of your neck stands up watching her act. When I went back home I couldn't think about anyone else. It wasn't even like I was thinking Priyanka has to play this, she had actually re-envisioned the character from my eyes."
Jake McLaughlin, the actor playing Ryan in the show said, "I didn't know anything about Priyanka, so I didn't know who she really was or anything like that, until later that I realized the extent of her celebrity because she is a down to earth girl."
Hollywood actor Josh Hopkins, playing the role of a seasoned FBI agent also vouched for the passion the
Mary Kom
actress possesses for her job.
"I think Priyanka is beautiful, she is a great actress, she just shines, she has got that 'it' factor. She walks into a room and everyone turns and looks and she just lights up, she is a tireless worker and is an example. I mean we all got tired it was a long season and she was always chipper and ready to go and she had to work more hours then everyone but she never complained and set the term for everybody," he said.
Her co-star Aunjanue Ellis, while speaking about Priyanka's
involvement in the show,
said, "What I like is getting the opportunity to see Priyanka as the leader of this cast and how she works is so hard and the way she does. She takes what she does incredibly seriously and she brings certain amount of joy to it."
The second season of the American thriller series,
Quantico
will start airing on September 25.
On a related note, thanks to
Quantico,
Priyanka has made it to
the Forbes' list
of the world's highest paid actresses.
She has secured the eighth position, beating veteran actresses like Julia Louis-Dreyfus, Julie Bowen and Zooey Deschanel on the list.
(Except for the headline, this story has not been edited by NDTV staff and is published from a syndicated feed.)