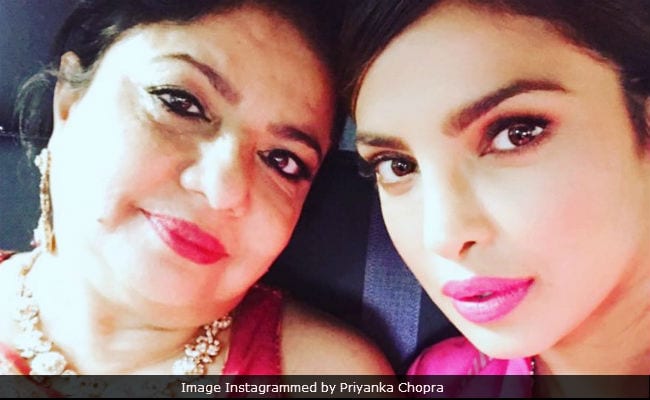 Highlights
Priyanka Chopra's mother is her 'Girl Hero'
"She's an amazing mother,daughter, sister, wife," writes Priyanka
Priyanka is currently in New York
New Delhi:
International Day of the Girl Child is celebrated every year on October 11. Our favourite
desi
girl Priyanka Chopra, who is currently in New York, posted a heartfelt message on Instagram for her 'Girl Hero,' who is none other than her mother Madhu Chopra. Sharing an adorable picture with her mother, Priyanka revealed why she is her 'Girl Hero.' Of her mother Madhu Chopra, who came from a small town and ran away from home to pursue her dream job, Priyanka wrote: "She was a doctor in the armed forces, has over 8 different medical certifications, is a certified pilot and she speaks 9 languages. She also used to drive around in an open top jeep (what a badass!), Whew! She's also an amazing mother, daughter, sister, wife, business partner."
The
Baywatch
actress shared that her mother is the one who taught her that she could be anything and everything she wants to be. Day of the Girl is observed to provide opportunities to girls and it also increases awareness of gender inequality faced by girls worldwide. Of this day, Priyanka wrote: It's so important to inculcate that sense of confidence in the girls around you and hopefully that's what we do this International Day of the Girl Child."
Take a look at Priyanka Chopra and her 'Girl Hero' here:
Priyanka Chopra was born in 1982 to Madhu Chopra and Ashok Chopra. The 35-year-old actress was very close to her father, who died in 2013. In 2012, Priyanka even got a body tattoo which reads: "Daddy's lil girl." She also has a younger brother Siddharth Chopra.
Recently, in an interview to
Variety,
Priyanka spoke about feminism and being fearless. "Feminism needs the men in their lives to stand up for their mothers, their sisters, their girlfriends, their wives, their daughters and say that I'm going to change the game for my future generation," said Priyanka Chopra. She added, "I was raised to be fearless when it came to opinions."
Priyanka also said that she's not going to rest until the opportunities are there not just for her, but for everyone. "Diversity needs to be normal, it should not be a novelty. It should not be the conversation,"
Variety
quoted Priyanka Chopra as saying.
Priyanka, who is currently shooting the third season of American show Quantico
, made a brief visit to Mumbai in August. The actress spent some quality time with her family. Later, Priyanka was accompanied by her mother Madhu Chopra to the Toronto International Film Festival, where she received a 'resonating' response for her Sikkimese production
Pahuna
. She is currently also filming her Hollywood projects -
A Kid Like Jake
and
Isn't It Romantic?