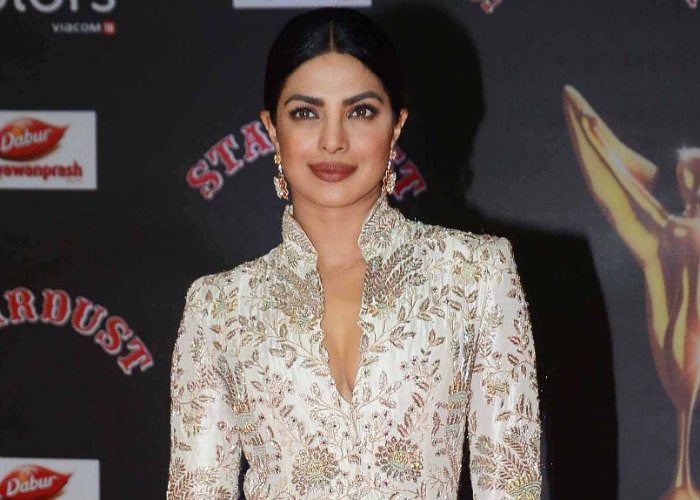 Highlights
Priyanka was speaking at the Stardust Awards in Mumbai on Monday night
Priyanka has been living and working in USA most of this year
She is busy with the second season of her American network show Quantico
New Delhi:
Priyanka Chopra has announced that her already packed 2017 is going to get even busier. The 34-year-old actress
is home for the holidays
and she's going to be picking two Bollywood films for next year, reports news agency PTI. "I will be doing two Bollywood films next year. I have come to India to decide on those films. By the end of January, I will finalise which those films will be," Priyanka said at the Stardust Awards in Mumbai on Monday night. Priyanka Chopra has been living and working in USA most of this year, filming the second season of her American network show
Quantico
and her
Hollywood debut Baywatch
. The only Hindi movie she appeared in was
Jai Gangaajal
.
Priyanka also said India has been included in the
publicity schedule for Baywatch
. "We have made a global plan for the promotion of
Baywatch
, of which India is a part. So, yes, the Hollywood cast will come to India to promote the movie," she said, reports PTI. The cast includes Dwayne Johnson (who plays Mitch Buchannon, David Hasselhof's character from the '90s TV show the film is based on), Zac Efron and Alexandria Daddario. Priyanka Chopra plays the villain, Victoria Leeds.
Of her very brief appearance in the trailer of Baywatch that released some weeks ago, Priyanka said, "The film releases in May and we are just in December. So keep watching as there's a lot more to come."
Priyanka, who was on several international red carpets and was
placed on the Forbes' list of the world's highest paid TV actresses
this year, has also been ranked ahead of actors like Jennifer Aniston and Leonardo DiCaprio on an iMDB list of the most popular celebrities of 2016. "I feel proud and excited. I am thankful to people who have looked for me and wanted to know about me and are curious about me. Indian talent deserves to be on the top 10 of the list. I am glad I have been able to reach that position. I hope other actors do too," Priyanka said, reports PTI.
Priyanka Chopra
, who was in India to receive her Padma Shri some months ago, is back in Mumbai for a winter break. Hopefully she'll get some time to chill in between reading scripts for the films she wants to make next year.
(With inputs from PTI)