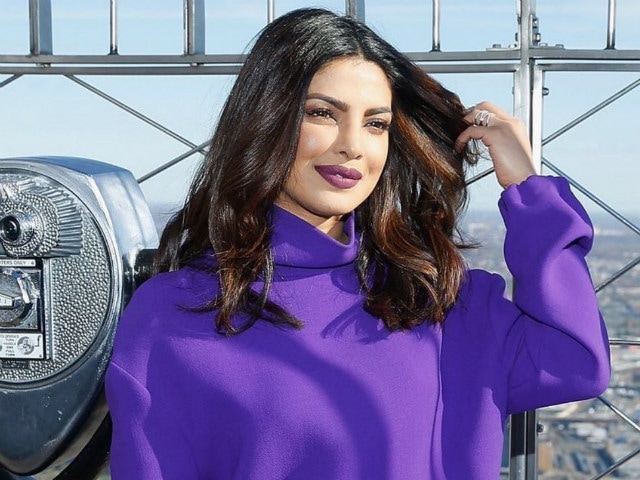 Highlights
Priyanka Chopra stars as a CIA agent in Quantico
Priyanka Chopra had an encounter with racist attitude at an airport
Priyanka Chopra was reportedly speaking on the sets of Koffee With Karan
New Delhi:
Home-girl
Priyanka Chopra is back in the country
for the winter holidays - India hardly sees Priyanka these days. And that is because the 34-year-old actress has been living in New York and is busy filming the second season of her TV series
Quantico
. Priyanka's popular TV show took off in September last year and since then Priyanka has been shuttling between the Big Apple and India. Priyanka is also prepped for her
Hollywood debut Baywatch
, co-starring Dwayne Johnson. Priyanka, who is reported to occupy the
Koffee
couch on Karan Johar's talk show
Koffee With Karan
soon, opened up about her brush with racism during her stay in New York, reported
DNA
.
When Karan Johar asked about her experience,
Priyanka
said that she was a victim of racist attitude at a crowded airport and not at her workplace, reported
DNA
. Priyanka was misbehaved with at the first class lounge of an airport. She later received an apology but only after an argument with the concerned airport personnel, reported
DNA
. "Priyanka said that whoever goes to Hollywood after her should be careful about the kind of roles they do. When KJo asked if she has faced racism she shared that she did, but not in the studios. She said that it was at the airport when she was sitting in the lounge for first class passengers that she was a victim. One of the ground staff personnel was rude to her, and only after she argued that she was a valid first class passenger did he apologise,"
DNA
quoted a source as saying.
Earlier, in an interview with IANS,
Priyanka confessed to struggling with homesickness
when she shifted countries for her work on the TV show. Priyanka stars as CIA recruit Alex Parrish in
Quantico
. "Leaving my country and coming to completely different country, that's always difficult. I'm alone, my family is not here, my friends are not here, though my cast always tries to make me feel really comfortable whenever, we have Diwali or any of our holidays. They always try and make it really festive for me."
Meanwhile, while in India, Priyanka
will zero in on two Bollywood films
for next year, reported news agency PTI. Priyanka was at the Stardust Awards in Mumbai when she said: "I will be doing two Bollywood films next year. I have come to India to decide on those films. By the end of January, I will finalise which those films will be."
Priyanka sashayed down several
international red carpets
and also ranked on the
Forbes' list of the world's highest paid TV actresses
this year. She has scored a place ahead of actors like Jennifer Aniston and Leonardo DiCaprio on an iMDB list of the most
popular celebrities of 2016
. Priyanka has also been nominated for People's Choice Awards for the second time in a row, courtesy
Quantico
.
Priyanka Chopra's
Baywatch
opens on May 26, 2017.
(With agency inputs)