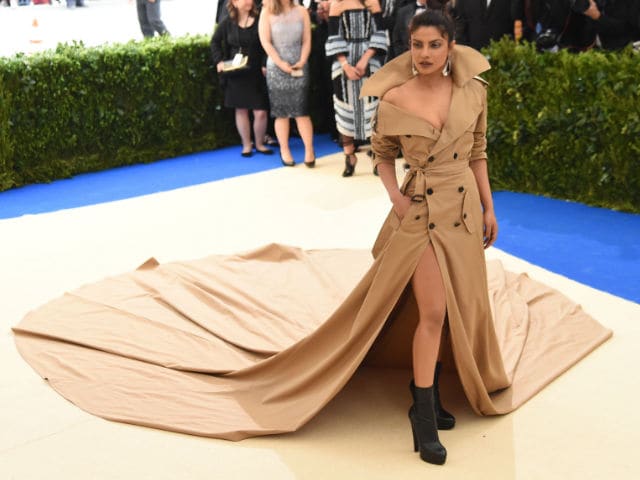 Highlights
Priyanka Chopra's convertible dress was made on her request
That's pure genius: Priyanka on her two-in-one Met Gala outfit
Priyanka wore Ralph Lauren's trench coat-style ballgown
New Delhi:
Turns out, the convertible dress that Priyanka Chopra wore to the Met Gala was a joint effort by her and designer Ralph Lauren. "Ingenious design by Ralph Lauren and thank God for it," the 34-year-old actress wrote in an Instagram post after the Met Gala last week - but, as Priyanka has now revealed to talk show host Jimmy Kimmel, the two-in-one dress was made at her own prompting.
Priyanka Chopra rocked up to the Met Gala in New York
last Monday in a trench coat-style ballgown which featured a giant train. After she walked the red carpet, Priyanka attended the dinner party in the same dress - only, minus the train. The story of the miraculous shrinking dress was told to Jimmy Kimmel, on whose show Priyanka Chopra was making her third appearance.
"What
happened to the rest of the outfit
?" Jimmy asked Priyanka. "That's pure genius," she replied and explained to him that she had a 'nightmare while travelling from Mumbai to New York.' Then she called her people who called Ralph Lauren's people and, with just three days to go before the Met Gala, a mini-dress was created within the giant dress. Good thing too, said Jimmy Kimmel, because that dress 'was a fire hazard.'
Hear all about it from Priyanka Chopra:
Here is Priyanka wearing the entire dress on the red carpet at the Met Gala (when not on camera, she was trailed by a gentleman holding the dress up):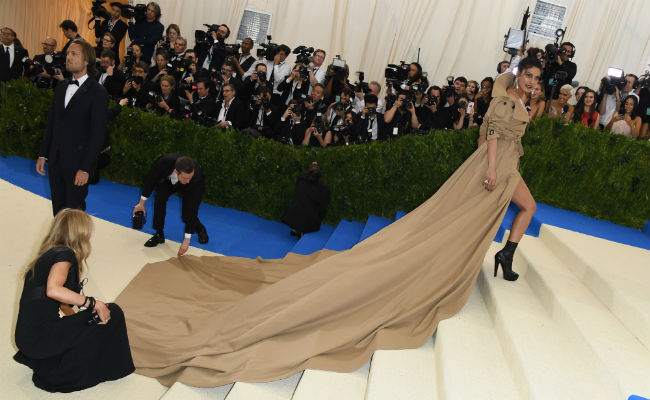 Here is her own post about the abbreviated version of the dress. As she writes, "imagine the 20-foot train at the after-party."
Priyanka Chopra, known to America as the feisty Alex Parrish from TV show
Quantico
, is now on publicity duty for her Hollywood debut, the film version of
Baywatch
. She plays the villain in it, opposite a cast led by Dwayne 'The Rock' Johnson. Baywatch releases on May 25.