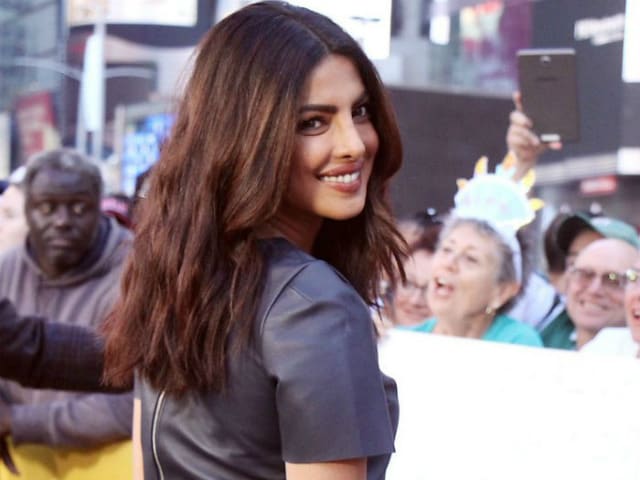 Highlights
'I'm alone, my family is not here, friends are not here,' said Priyanka
'I'm not okay with just one country. I want the world,' she added
Priyanka is currently shooting Quantico Season 2 in New York
New York:
Actress Priyanka Chopra is not ready to slow down despite being caught up in the midst of juggling between her work in India and the US. She says her aim is to work around the world, and not just one country.
"I'm still doing it (Bollywood). Two continents. I'm not okay with just one country. I want the world," Priyanka
said during an appearance on talk show
The View
.
The actress is busy shooting for the second season of American TV show
Quantico in New York
.
Priyanka, who was seen playing an FBI agent named Alex Parrish in the first season of the American drama series, is now a CIA agent in its second season.
The former beauty queen, who has garnered applause for her performance in films like
Fashion
and
Mary Kom
, also shared that deciding to be away from India to come and work in the US was tough.
She said: "Leaving my country and coming to completely different country, that's always difficult. I'm alone, my family is not here, my friends are not here, though my cast always tries to make me feel really comfortable whenever, we have Diwali or any of our holidays. They always try and make it really festive for me.
"Their hair and make-up trailer is decorated, because everyone knows I am away from home. But that was hard and television is a huge commitment. So, you know leaving your country, coming here, I wasn't sure," Priyanka added.
She will also make her Hollywood debut in a negative role in
Baywatch
- the big screen version of the globally popular TV series
featuring Dwayne Johnson
and Zac Efron.
The actress says there is a massive frenzy in India for
Baywatch
.
"It was massive in India. I think more than David Hasselhoff, everyone knew who Pamela Anderson was. Definitely did! And the show, people loved watching the show. I guess it was the representation of the great American dream at that time. It was in the 1980s or the 1990s," said Priyanka.
"I don't think people around the world ever put it down. I find it amazing, ever since I have been talking about
Baywatch
in America, people have been like 'It's cheesy, whatever'. But around the world people love that show, I actually really liked it. I watch reruns," she said.
(Except for the headline, this story has not been edited by NDTV staff and is published from a syndicated feed.)