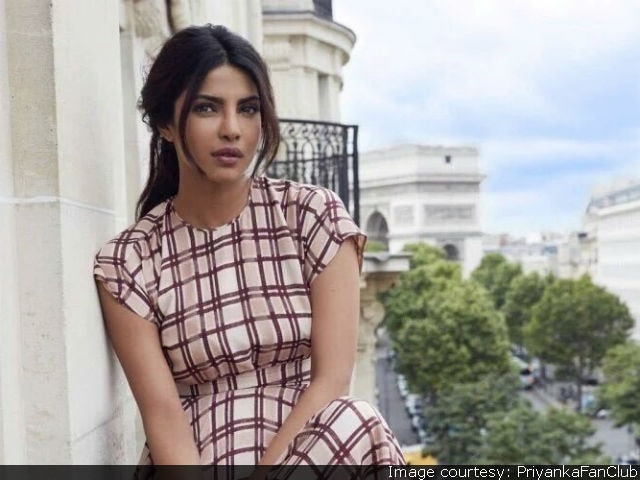 Highlights
Priyanka addressed the wage gap in an interview
"I don't like the fact that the disparity is so massive," said Priyanka
Deepika Padukone was the tenth highest paid film actress last year
New Delhi:
It's 2017 and we're still discussing how much less women are paid than men for doing pretty much the same work.
Actress Priyanka Chopra
addressed the wage gap in an interview to the
BBC
earlier this week, saying, "I don't like the fact that I get paid less than the boys even though I've worked as hard as them. I don't like the fact that the disparity is so massive." The 34-year-old actress qualified her statement by comparing the box office performances of films headlined by male actors and those by female actors. The former could fetch upto $40-50 million - that's in the region Rs 300 crores - as Aamir Khan's
Dangal
and Salman Khan's
Sultan
did last year. Films led by female stars make much less, only about a fifth of that amount.
This inequality will be addressed by changing mindsets. "When the audience is ready to watch a female led film, with a woman on the poster, and make it into a $40 million film, we will get paid for it," Priyanka told
BBC
. Two of Priyanka's recent films -
Jai Gangaajal
and
Mary Kom
- were female-driven and neither set the box office on fire. Last year, actress Kalki Koechlin told
Times Of India
in an interview (apparently somewhat inaccurately), "You only get paid more than a man if you are Priyanka Chopra."
Oscar-winning actress Natalie Portman recently told
Marie Claire UK
that her salary for 2011 film No Strings Attached was a third of her co-star Ashton Kutcher's. "I wasn't as pissed as I should have been. I mean, we get paid a lot, so it's hard to complain, but the disparity is crazy," she said.
The difference in pay cheques is grimly apparent from the relative earnings of the male and female actors ranked by Forbes last year. In a first, both Priyanka Chopra and
Deepika Padukone
placed on the top 10 lists of the world's highest paid stars. Priyanka, who headlines the American TV show
Quantico
, was ranked eighth on the list of the world's highest paid TV actresses with a stated earning of $ 11 million - on the corresponding male list, she would have tied for 11th place with
Modern Family
star Eric Stonestreet (although, in a pleasing aberration, the male cast of Modern Family and indeed every male TV star ranked by Forbes is outstripped by Sofia Vergara who made $43 million).
xXx 3
star Deepika Padukone was the tenth highest paid film actress last year with $10 million - a sum that would put her even behind Harrison Ford at #20 on the list of film actors with $15 million.
Deepika's xXx 3 co-star Vin Diesel
made $35 million and was ranked seventh; Priyanka's
Baywatch
co-star Dwayne 'The Rock' Johnson topped the list with $64.5 million. The female topper, Jennifer Lawrence, pulled in $46 million - less not only than The Rock but also actors #2, 3, 4 and 5: Jackie Chan ($61 million), Matt Damon ($55 million), Tom Cruise ($53 million) and Johnny Depp ($48 million) Depressingly, the total earnings of the world's 10 highest paid female stars added up to less than half of what the men made.
In this gloomy state of affairs, we were partly cheered by Deepika's
Piku
co-star, the redoubtable Amitabh Bachchan, telling
BollywoodLife
, "In
Piku
, Deepika Padukone was paid more than me. That says two things - one that she is obviously more important than me and two I have lost my price scale because I have been working for so long and maybe I am not that important now to get that kind of money."
If you smiled when you read that, consider that it is, like
Sofia Vergara
, the exception that proves the rule.