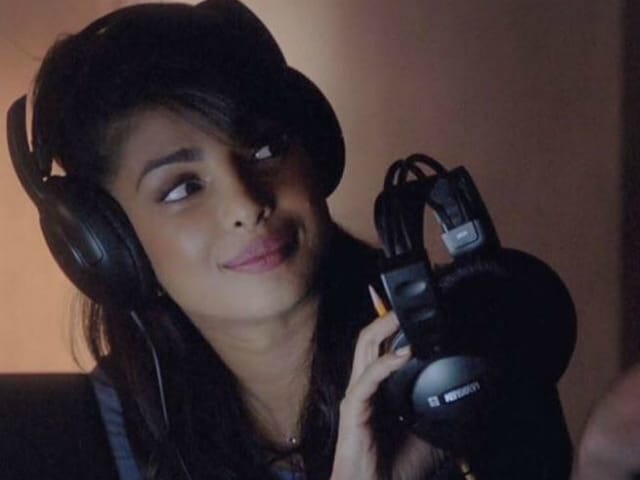 Mumbai:
Jetting across different time zones, with two films and a TV project in hand, Priyanka Chopra, who has been rushed off her feet for the past several months, will continue to be caught up in a whir of activities for the next couple of months.
Although in Montreal, Canada, where she is shooting for American thriller series
Quantico
, the actress also has other responsibilities to fulfil, including some back home - long-distance supervision of her production house and doing early morning promotional interviews for her next Bollywood film,
Jai Gangaajal
(night for Indian journos, considering the 10 and half hour time difference between India and Canada).
PeeCee will shortly begin shooting in Miami, US, for her debut Hollywood film,
Baywatch
. Hectic is too mild a term to describe her schedule. In a telephonic interview, Priyanka tells hitlist about managing it all...
Q.
How would you describe your managerial skills given that you have to attend to multiple commitments at the same time?
A.
I have my team in place which knows exactly what I want, and so they know exactly what to do. I can describe myself as a micro-manager since I am interested even in the minor details. I can manage many things at the same time because that is how I am. I have my finger in too many pies because I want all of those pies.
Q.
Do you have time to prep for
Baywatch
?
A.
As soon as the Oscars wrap up on February 28 night, I leave for Miami. I begin shooting for
Baywatch
the very next day, even though the unit starts earlier. I will be juggling
Baywatch
and
Quantico
until April. So, it will be a lot of travel between Miami and Montreal. Makers of both have allowed me to do the balancing act. It is going to be crazy. I have a nightmare schedule ahead. I shoot for
Quantico
from Monday to Friday.
Right now, on weekends, I am promoting
Jai Gangaajal
here and then I will squeeze in the baddie role for
Baywatch
.
Q.
It's been a while since you did a menacing act on screen...
A.
The
Baywatch
folk had initially thought of having a male villain, but later they did a rethink and decided to have a woman instead. I have done a menacing role in
Aitraaz
(2004) and
7 Khoon Maaf
(2011). My character of Victoria in
Baywatch
is really mean. I have grown up watching the show with those people running on the beach in their red swimsuits, and now, I am one of them. (Also Read:
Priyanka Chopra Cast as Baywatch Villain. This is Not a Drill
)
Q.
So there is no way you can be in Mumbai even for a day before the release of
Jai Gangaajal
?
A.
No, it's difficult. I have had a long conversation with Prakash sir (Prakash Jha, director) and I am grateful to him for understanding my stance. But at the same time, I feel bummed out. The other day he launched the
Tetua
track from the film and I couldn't be there. It was me who had convinced him to add more music to the film. We ended up with 12 songs. Also, two of my productions, one Marathi and the other Bhojpuri, have gone on floors while a Punjabi film will roll soon. So, all that coordination is done via phone. (Also Read:
Priyanka Chopra Plays With Fire in New Jai Gangaajal Song. Literally
)
Q.
Have you decided on your Oscar outfit yet? The ceremony is less than 10 days away...
A.
Not yet. Designers from all over the world have been sending stuff. I am looking for something classy and elegant.
Q.
What do you do when tired?
A.
Just go off to sleep. My body overcame jet lag ages ago and those billboards of me on Times Square in New York give me a high. All that keep me going.