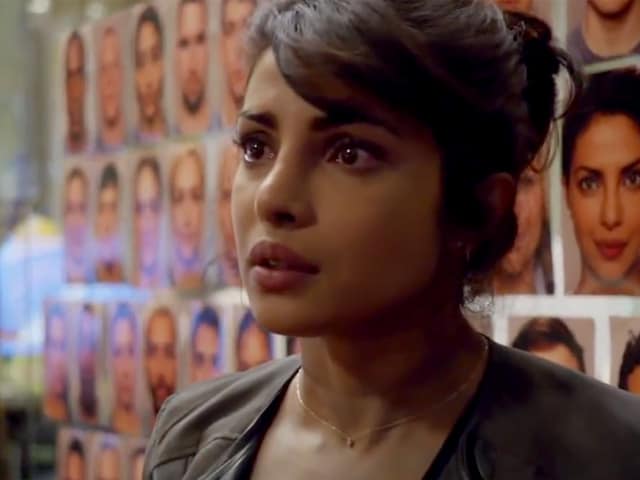 Mumbai:
Actress Priyanka Chopra remembers being bullied and being called "brownie" in her teenage years in the US. But now the actress, who has landed a key role in American TV show
Quantico
, hopes that her new endeavour helps her to break the "stereotype" that global pop culture has made out of Indians, and opens more doors for the country's actors to be taken seriously in the west.
"The fact that
Quantico
happened was a big win. I just hope it is successful because I really think that it would make a dent in Indian actors being taken seriously. I think," Priyanka said here.
A teaser of
Quantico
, which has been picked by ABC, gives ample footage to Priyanka, who essays FBI Agent Alex Parrish. And she even speaks with an accent!
Commenting on her debut in the US TV series, the 32-year-old said she agreed to work in the show only on a condition.
"The fact that she (Alex Parrish) is an Indian should have nothing to do with the story. 'I am an actor, so cast me as an actor,' was my point. They indeed found me a part where I play a half-Indian, half-Caucasian FBI agent," she said.
"I play an American girl, I have an American accent, and it's nothing related to the stereotyped image of Indians. We are beyond the exorcism, spirituality and yoga. It's there, which is great, but that's not it," said Priyanka, who also broke stereotype when she ventured into the global music scene with her single
In my city
.
Some of her past memories of the US - when she went to study there - are sour.
"I was bullied a lot when I was in a school in America. A lot of racism happened with me, which is why I came back. I was in high school, only 16 years old. I was called 'Brownie, go back on the boat you came from' and things like that," she said. (Also Read:
I Faced a Lot of Racism in an American School, Says Priyanka
)
"So, when the opportunity of working in the West started coming in, starting with my music, I really wanted to try and bring relevance to Indian talent, because I was given the opportunity," added the multi-talented former Miss World.
The National Award-winning actress, who has made her mark in Bollywood with films like
Fashion, Mary Kom
and
7 Khoon Maaf
, shared that it is important for her that Indian talent be recognised.
"Our accent is made fun of, and we all do not speak like that! We all do not smell of curries, we all are not just nerds who are ugly looking, sitting behind computers. Why, why do we have Indians stereotyped? We are very proud of our big families, but that doesn't mean that you will see 15 people coming out of one car," she said.
"My point is that in global pop culture we are represented like that. I wanted to break that. It annoyed me that my country is seen only like that," she concluded.