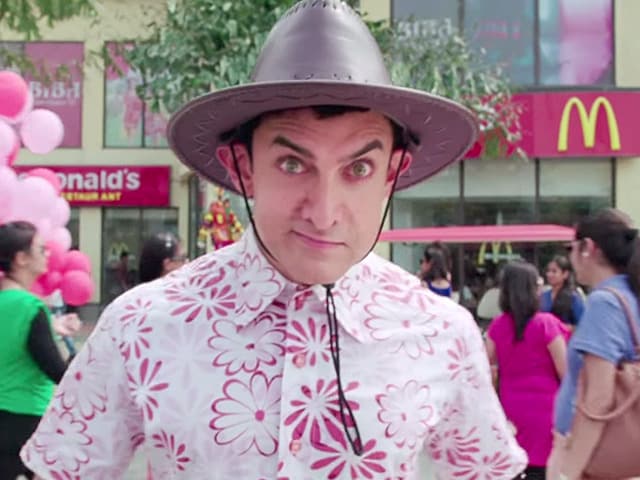 New Delhi:
Bollywood has had a tough 2014 with some of the bigger films flopping at the box office. With PK, starring Aamir Khan, the industry had hope but now the producers of PK have locked horns with single screen operators after the latter refused to charge a premium on tickets.

Manoj Desai, owner of some of the oldest single screen theatres including Gaiety in Mumbai, is a man miffed with the makers of PK. Aamir Khan films are one of the most awaited each year, but this time around the makers want a premium from single screen owners - charging a premium on multiplex tickets is a not uncommon practice. Mr Desai feels that a premium on the ticket would almost double the prices and the common man would miss out on an Aamir Khan film. (Also Read: 5 Guesses About Aamir Khan's Identity in PK)

"I run films on my screens at the rate of Rs 40 and 50, I can't ask people to pay Rs 300 per ticket," he said.

The Aamir Khan camp decided to not comment on the issue at all but sources claim that single screen owners aren't transparent with their ticket deals. There have been instances where the owners were at an understanding with the touts who sell tickets for a premium of almost 100 per cent. The producers clearly don't want PK to go through the same ordeal and miss out on an added revenue stream. (Also Read: Meet the Extra Who Plays the Beggar on the Bridge)

Experts say that a lot of the single screen owners buy their own tickets and black them to the common man. That way, they make a premium that is unaccounted for. Their dealings at the ticket window are hardly transparent and that's the reason perhaps why the producers have decided to streamline the revenue structure. (Also Read: The Secret of 2014's 'Biggest' Bollywood Film is it's Plot)


Manoj Desai isn't alone in this fight against
PK
's price hike. Almost 200 single screens have joined hands and that means that Aamir's
PK
will now be released in 5000 screens which would be as many screens as Happy New Year had managed. Mr Desai and other single screen owners are looking to give films like
Action Jackson
and
Lingaa
an extended run instead.
This, however, isn't the first time that an Aamir Khan film has locked horns with the exhibitors. Way back in 2009, it was the multiplex owners Aamir's
3 Idiots
wanted a 52 per cent revenue share from in the first week, 47.5 per cent in the second week, and 40 per cent in the third and fourth weeks.
PK
, possibly the year's most anticipated film, opened on December 19. It co-stars Anushka Sharma, Sanjay Dutt and Sushant Singh Rajput, and is directed by Rajkumar Hirani.