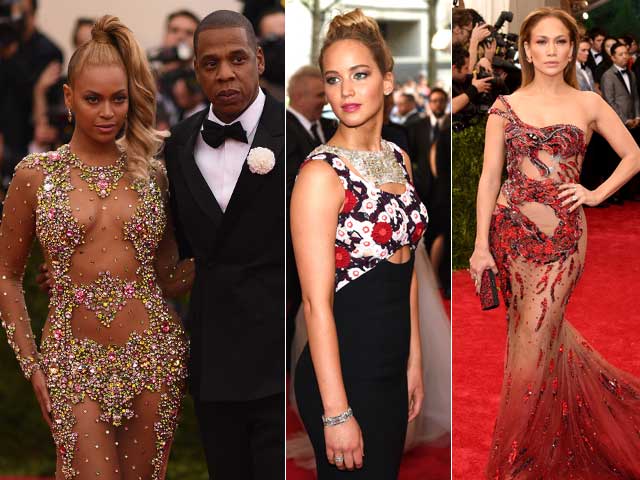 New York:
The ostensible theme of the Costume Institute at the Metropolitan Museum of Art was China, but as ever, the gala celebrating it Monday night was really and truly about the extraordinary pull of celebrity and its current symbiotic relationship with the fashion world.
At Hollywood awards shows, actresses wear monotone gowns that Karl Lagerfeld refers to with derision as the fishtail dresses.
Here at the newly christened Anna Wintour Costume Center - named in honor of the Vogue editor who co-hosts the event and has raised tens of millions of dollars for the museum in the process - they don the sorts of outfits that would make Joan Rivers roll over in her grave.
Sarah Jessica Parker was at the top of the stairs in a flaming headdress designed by Philip Treacy and a dress with multiple unmatching fabrics.
Parker designed the dress in collaboration with H&M and she said, with a glint in her eye, "We started in October."
Certainly, she was not the only A-list star whose outfit this year was plotted with the precision of a military campaign.
As the gala has grown over the years to become a celebrity draw that rivals the Oscars - "Anna's taken it far beyond what anybody expected," Calvin Klein said - the planning has grown ever more complex.
Some of Parker's fellow thespians showed up wearing designers who pay them to appear in ad campaigns. For example, Jennifer Lawrence arrived in Dior, whose campaigns she has appeared in for the past couple of years. And Jennifer Lopez arrived wearing Donatella Versace and trailed by Donatella Versace.
But others arrived with designers who Vogue paired them up with, demonstrating the magazine's power in Hollywood at a time when the luxury business is booming and salaries for appearing in movies are dropping.
"Anna has her ideas about who you should be matched with and they tend to be good ideas," said Claire Danes, who was in a dark green gown from Valentino and did not specify whether that was one such brokered introduction.
Not that anyone in attendance appeared to be complaining.
Toward the bottom of the stairs was singer Alicia Keys with designer Jean Paul Gaultier. At the top was Anne Hathaway, in a gold Princess Leia-like thing she described as "a couture dress with a hoodie."
Hathaway, a veteran of awards shows, even won herself an Oscar, for
Les Miserables
in 2013. But nothing compares to coming to the Met Ball, she said.
"This is more fun," she said. "They feed you and only two people make a speech so it's a lot more relaxed."
The crowd on Monday was certainly more eclectic than most Hollywood awards shows.
Former Mayor Michael R. Bloomberg was there, flanked by both his girlfriend, Diana Taylor, and his daughter Georgina. Nearby were Cameron and Tyler Winklevoss, the twins who won $65 million from Facebook founder Mark Zuckerberg, wearing Tom Ford custom tuxedos.
"It's the best party in town," Tyler Winklevoss said, before admitting that it was in fact his first time as a guest at the party.
That was not the case for David H Koch, the Met trustee and philanthropist, who arrived a little after 7 p.m. and was happy to note that his status as one of the museum's biggest benefactors comes with certain privileges.
"The whole plaza out there," he said, "is named after me."
Nearly two hours after cocktails began, the bold faced and small waisted continued to arrive.
Riccardo Tisci, the designer of Givenchy, came with Julianne Moore. Next were Cher and Marc Jacobs. The cameras went into overdrive for Reese Witherspoon, followed shortly after by Kim Kardashian and Kanye West.
Wintour, who is also the artistic director of Conde Nast, reportedly did not allow Kardashian in for many years, but times change.
Also present this year were Kardashian's mother, Kris Jenner, and Kardashian's half-sister, the model, Kendall Jenner.
Around 8:30, the photographers began screaming again as a woman in a long black dress made her way in, flanked by a publicist in bunny ears and a much younger man as her date.
It was Madonna and the famed music producer, Diplo.
What keeps her coming back, year after year, someone asked?
"It's like a Fellini movie," she said. "The best and worst of everything is here."
© 2015, The New York Times News Service