New Delhi:
Highlights
A 10-year-old boy married an 18-year-old woman in the show
'Don't sell stupidity in the name of content,' said Karan Wahi
'Please don't judge it and jump onto conclusions,' said Suyyash Rai
Sony TV's new show
Pehredaar Piya Ki
irked television audience right from the time it aired its first promo. The show premiered on Monday and four episodes later, the audience still cannot buy the fact that 10-year-old Ratan Singh (played by Afaan Khan) will get married to 18-year-old Diya (played by Tejaswi Prakash). But the show's cast member Suyyash Rai, who plays Diya's almost-fiance Abhay, defended the plot and concept saying: "This show is different, please don't judge it and jump onto conclusions. If a channel has approved the show they must have thought something right? Even the producers must have thought a lot before making this and investing so much money."
Recently, television actor Karan Wahi
slammed the show
and said: "Please don't sell me stupidity in the name of content which gives TRP." On Instagram, talking about Karan's opinion, Suyyash said: "Whatever Karan Wahi said it's his point of view and no one can question him neither me nor you guys. But this doesn't change the fact that we, the whole team of
Pehredaar Piya Ki
love this show and we all have worked really hard for it." To this, Karan wrote in the comments section: "I'm glad you took it (the show's concept) in the right way and I hope everyobe was like this."
Read Suyyash Rai's Instagram post on
Pehredaar Piya Ki
:
Karan Wahi's replied: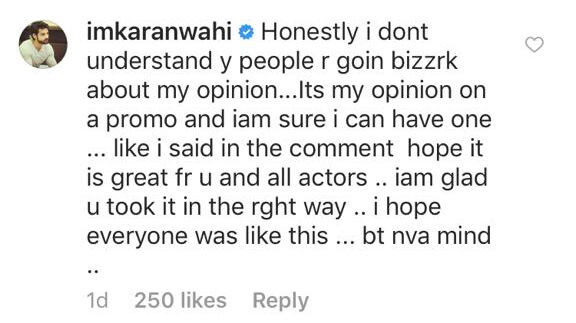 Earlier Tejaswi Prakash told IANS that the show doesn't promote child marriage in any way saying: "I cannot deny the fact that a child is getting married in the show, so in a way it is child marriage, but that is not something we are promoting. The relationship cannot be like child marriage as we both (characters) do not know the definition of love, nor there is nothing like romance on the show. We are not married in a romantic way, we are just like friends."
Meanwhile, so far in
Pehredaar Piya Ki
, the maker introduced their primary characters - Ratan Singh, Diya and their families. It is 'love' at first sight for Ratan, 10, (just so you don't forget) who is totally smitten by Diya, 18 (don't know what Tejaswi Prakash meant earlier). Instances like Ratan saving Diya from a cockroach and Diya saving Ratan from a live wire (with
Pehredaar Piya Ki
chorus booming in background) indicate what will happen in subsequent episodes. In tonight's episode Ratan and Diya will get married while Ratan's father Maan (Parmeet Sethi), who is on his death bed, blesses them over Facetime.
In Thursday's episode, Maan requests Diya's father to let his son get married to Diya so that she can become his guardian (the titular
Pehredar
). His logic - Only as Ratan's wife can Diya truly protect him from the family members who want Maan's 10-year-old successor dead. And Diya agrees - again
Pehredaar Piya Ki
chorus plays in the background.