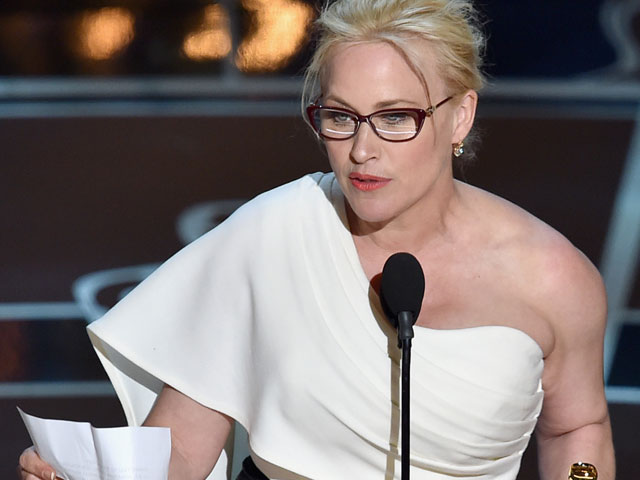 Actress Patricia Arquette won the Oscar for best supporting actress Sunday for her role in coming-of-age drama Boyhood - and embraced the moment to make an impassioned plea for gender equality.

It was Patricia's first Academy Award and she used her precious few seconds on the Oscar stage to demand equality for American women -- a gesture which saw the Dolby Theatre roar in approval. (Also Read: Birdman Takes Flight. 4 Wins, Including Best Film and Director)

"To every woman who gave birth, to every taxpayer and citizen of this nation, we have fought for everybody's equal rights," she boomed, reading off a piece of crumpled paper.

"It is our time to have wage equality once and for all, and equal rights for women in the United States of America," she added to robust applause. (Also Read: How It Happened)

Patricia beat Laura Dern (Wild), Keira Knightley (The Imitation Game), Emma Stone (Birdman) and Meryl Streep (Into the Woods) to take Oscars glory.

Ms Streep, a three-time Oscar winner, stood up and pointed to Patricia, applauding her equality message and shouting, "Yes!" Next to her was Jennifer Lopez, cheering.


Twitter lit up with supportive messages for what many predicted would be the most memorable moment of Sunday's gala awards ceremony.
Actress Lena Dunham tweeted simply: "PATRICIA 4 PREZ"
And filmmaker Michael Moore tweeted: "God bless you Patricia Arquette: a great actor, a brilliant citizen, you've just won the admiration of millions. Much love."
"Unless someone falls over or gets naked on stage, I think Patricia Arquette is the star of the show tonight," read one typical tweet.
The 46-year-old Patricia previously won Screen Actors Guild and BAFTA honors as well as a Golden Globe for her portrayal in "Boyhood" of a Texas mother trying to raise a family against the odds.