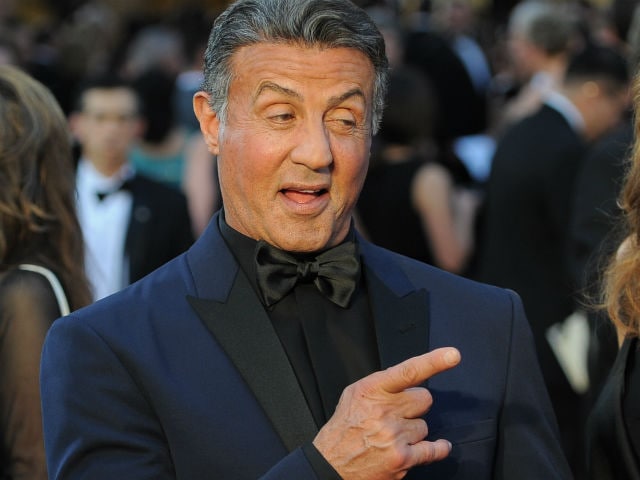 Los Angeles:
A furious Frank Stallone slammed the Academy in a foul-mouthed tirade for snubbing big brother Sylvester in the Best Supporting Actor category at this year's Oscars.
The
Rocky
star was widely backed to bag the prize following a Golden Globe award for his critically acclaimed turn as the boxer in Ryan Coogler's spin-off movie
Creed
.
But the statuette went instead to Britain's Mark Rylance for
Bridge of Spies
, in one of the biggest shocks of Sunday's gala ceremony.
Frank, 65, tweeted:
The Academy should be ashamed of themselves. It's as clear as the nose on your face that Sly won. Mark who? It's total Hollywood bullshit

— Frank Stallone (@Stallone) February 29, 2016
The younger Stallone, warming to his theme, insisted that Mr Rylance should have "been embarrassed" to supplant an actor who had done a "historic job" creating two cinema icons that have appeared in films spanning four decades.
First of all my brother has created 2 American icons 40 yrs worth and he did a historic job. If I was Mark? I would have been embarrassed

— Frank Stallone (@Stallone) February 29, 2016
Sly's underdog prizefighter turned world champion boxer Rocky Balboa spawned seven movies grossing an inflation-adjusted $1.7 billion in North America alone, while four Rambo films featuring irritable Vietnam vet John Rambo took in $674 million. (Also Read:
Heartbreak For Stallone. Mark Rylance Beats Rocky Balboa at Oscars
)
Mark Rylance couldn't even comb his hair for Christ sake this is the 3rd time Sly's gotten ripped off Rocky, Copland and Creed. New Voters

— Frank Stallone (@Stallone) February 29, 2016
Although, Mr Stallone was never nominated for 1997 crime drama
Cop Land
.
Stallone himself was in more magnanimous mood, posting a picture of himself on Instagram in his black and blue Oscar tuxedo winking at the camera, fist clenched in defiance. (Also Read -
Oscars 2016: Complete List of Winners
)
He later posted a screenshot of a smiling Rocky from "Creed," assuring fans that he was "very happy" and urging them to "please understand my brother is so emotional because he is just very protective and only wants the best for me. Life is good!"
Mr Stallone was last nominated for an Oscar 39 years ago as Best Lead Actor and Writer for
Rocky
.
A host of celebs rushed to ally themselves with Team Sly, including British media personality Piers Morgan, US actress Mia Farrow and Arnold Schwarzenegger, Mr Stallone's co-star in action franchise
The Expendables
.
Mr Rylance, 56, was asked backstage how it felt to have outpunched Mr Stallone but said he didn't take awards too seriously.
"I don't know, people come up and say things about competing as actors and I know it's necessary to make a show out of it," he told reporters, insisting he did not feel "better" than his fellow nominees.