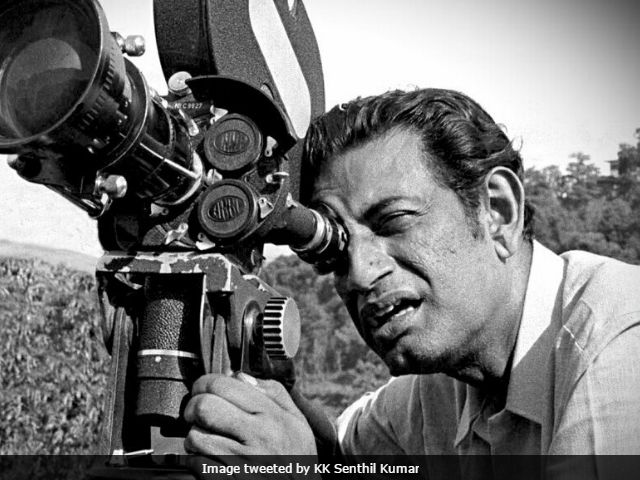 Highlights
The Apu Trilogy won 7 awards at the Cannes Film Festival
Pather Panchali took three years to shoot
Pather Panchali reportedly never had a complete screenplay
New Delhi:
Filmmaking legend Satyajit Ray would have been 96 today. Born on May 2, 1921, Mr Ray was counted among the great cinematic talents of the 20th century and his legacy includes a body of work admired the world over. Some of his earliest work is regarded as his finest.
The Apu Trilogy
, made up of the films
Pather Panchali
,
Aparajito
and
Apur Sansar
, was a collaboration of two early ambassadors of Indian culture. It was directed by Satyajit Ray and had music composed by Pandit Ravi Shankar. Both were unknown at the time, not just abroad but at home as well. Based on the novels of Bengali author Bibhutibhushan Bandopadhyay, the trilogy
instantly placed Mr Ray and Indian cinema on the world map
. Between them, the three films won three National Awards and seven awards at the Cannes, Berlin and Venice film festivals.
Did you know these facts about the films?
1.
Pather Panchali
was made on a budget so meager that Satyajit Ray sold his life insurance policy and even some beloved LPs to raise funds. He also convinced wife Bijoya to pawn her jewellery.
2. Funds dried up halfway through filming
Pather Panchali
. Satyajit Ray was bailed out by the Government of West Bengal who loaned him the money he needed, listing the loan in their records as "roads improvement," a reference to the title of the film which translates as
Song Of The Road
. The crew that filmed
Pather Panchali
were complete rookies, beginning with Satyajit Ray who reportedly had never directed anything before.
3. Also new and inexperienced was cinematographer Subrata Mitra, a still photographer whose work Satyajit Ray admired. Subrata Mitra taught himself how to shoot a film on a borrowed 16mm camera.
4.
Pather Panchali
took three years to shoot. Satyajit Ray reportedly waited a whole year to maintain continuity in one scene because it featured a certain type of wildflower that bloomed at a particular time of year.
5.
Pather Panchali
reportedly never had a complete screenplay, relying instead on a collection of notes and drawings made by Satyajit Ray.
6. In
Aparajito
, the second film, much of Apu's story is drawn from Satyajit Ray's own experiences. For instance, Apu's going to Calcutta and finding lodging with a printer echoes the young Satyajit Ray living above his grandfather's printing press.
7.
Apur Sansar
, the final film, marked the debut of two actors who would become frequent collaborators of Satyajit Ray. Soumitra Chatterjee played the grown up Apu and became Satyajit Ray's favourite actor, appearing in almost every film Mr Ray directed.
Sharmila Tagore, just 14 at the time
, played Apu's bride Aparna and was later cast by Mr Ray in
Devi
and
Nayak
, among other films.
Satyajit Ray died on April 23, 1990 at the age of 70. He received the Oscar for Lifetime Achievement shortly before his death. Mr Ray's acclaimed filmography includes
Nayak
,
Ghare Baire
,
Shatranj Ke Khiladi
,
Charulata
,
Jalsaghar
and the
hugely popular Feluda films
.