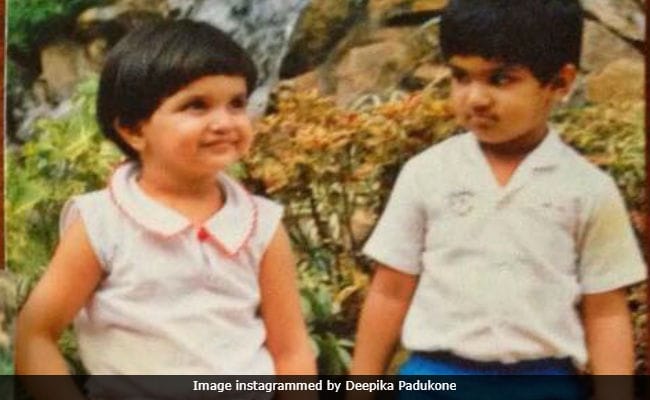 Highlights
Deepika can be seen hanging out with her 'forever friend'
Deepika, now 31, must have been four (five, max) at that time
Deepika Padukone's photo had over 45,000 likes in 10 minutes
New Delhi:
Deepika Padukone missed #ThrowbackThursday this week but we forgive her because the picture she posted today, a day late, is the best thing we've seen in a while. Within 10 minutes of being posted, Deepika Padukone's photo had over 45,000 likes and was fast collecting many more. The comments were variants on the theme of 'aww' and 'how cute.' The picture, speeding towards viralness, is one of Deepika as a toddler hanging out with her 'forever friend,' a gent by the name of Aditya Narayan. In red peddle-pushers (remember peddle-pushers?), a white top, black Bata ballerinas (the kind you wore to school) and what was known as a 'boy cut' hairstyle, Deepika is the very picture of adorable. She can't have been older than about four (five, max) - Deepika, please confirm?
Matching Deepika Padukone for cute quotient is her pal Aditya, whose expression is, in Mastercard terms, priceless. Some comments do flag this - 'why is he looking at you like that,' asks one of Deepika's followers.
Just so everyone knows, this is what 31-year-old Deepika Padukone looks like now:
OK, Deepika Padukone. You win the Internet.
Good to see that the actress isn't fretting over the enforced delay of her new film
Padmavati
, which has been dogged by controversy and was recently rejected by the Censor Board. Protests against the film, which is based on the legend of Rajput queen Padmini of Chittor, have gotten shriller over the last few weeks, reaching fever pitch when a BJP leader placed a bounty on the heads of Deepika and
Padmavati
director Sanjay Leela Bhansali. The film has been
indefinitely postponed from December 1
pending Censor clearance and will not release abroad either despite being passed by the British censor.