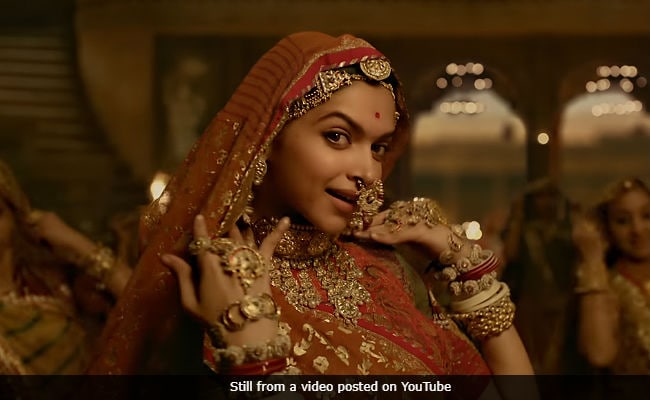 Highlights
Padmavati was cleared with 12A (equivalent to 'UA' in India) certificate
The CBFC refused to review Padmavati last week
Padmavati's new release date hasn't been announced yet
New Delhi:
The latest plot development in the saga of stalled film
Padmavati
is that it's been passed by the UK censor but will not release there on December 1 because the producers have decided to wait for clearance at home. Parallely, the Supreme Court announced it would hear a plea asking that the release of
Padmavati
abroad be stopped - the statement from
Padmavati
producers Viacom18 saying they would wait cancels the need for this. The British Board of Film Classification or BBFC announced on Wednesday the embattled
Padmavati
had been certified '12A' (equivalent to 'U/A' in India). See the BBFC's tweet here:
PADMAVATI (12A) moderate violence, injury detail https://t.co/2S1pF33WVN

— BBFC (@BBFC) November 22, 2017
However, while this means that nothing stops the film from releasing overseas (unless the Supreme Court intervenes), it also opens up the possibility of pirated versions of the movie being made available before it finally gets to open in India.
When this is going to be is anybody's guess.
Padmavati
, mired for months in controversy, has been refused certification by the Prasoon Joshi-led Censor Board because of an 'incomplete' application. The film missed the 68-day deadline for submission to the Censor Board for review and director Sanjay Leela Bhansali's decision to screen
Padmavati
privately without a certificate was frowned upon.
The controversy about
Padmavati
snowballed in the last few weeks after escalated protests against the film in Rajasthan and some other states. Those opposing the film object to its subject matter, based on the legend of Rani Padmini who immolated herself to escape Sultan Alauddin Khilji's invasion. Critics of the film are concerned that the Bollywood treatment sets up the story of Padmini and Khilji as a romance, despite Mr Bhansali's repeated reassurances that it doesn't.
Spotted on Twitter today:
People of UK are going to see #Padmavati earlier than the audiences of India. A slap on the face of Indian people.

— Pritam Kanojiya (@HookerPritam) November 23, 2017
States which are opposing #Padmavati movie should organize visa for the fringe grps & send them abroad for protesting.

— Rahul M C (@rahul_michael) November 23, 2017
The Crown on Netflix has been filmed while the Queen is alive, with some unflattering, very private details scripted into it and no Briton has reacted. #Padmavati's existence is itself fictional and death threats have been issued to filmmaker's. Well done India

— Jai Singh (@JaiHe) November 23, 2017
So bad that we can't watch our own country's movie just because of some "sena" whose sentiments get hurt every now and then. Why do i feel that these "senas" are Indian equivalent of terrorists?

— Bhagat Nagi (@bhagat_nagi) November 23, 2017
Exactly , just release it worldwide and see what happens ! Morons can sit and wail ... Lets see if anyone can stop it from releasing outside of India coz all gundagardi is allowed in India only , sadly

— Muskaan (@onlymuskaan) November 23, 2017
The CBFC's decision to not review
Padmavati
on technical grounds has
also been slammed by industry members like Shyam Benegal
and Shabana Azmi. "I must say the CBFC is behaving very strangely in the matter of
Padmavati
. If the film didn't carry a disclaimer it could easily be corrected. Why send the film back? Again it seems very suspicious," Mr Benegal told news agency IANS.
The
delaying of Padmavati means a Rs 200 crore loss
, an exhibitor told NDTV yesterday. If the Censor Board sticks to enforcing the 68-day rule for other films, Salman Khan's
Tiger Zinda Hai
could also miss its date of December 22, he said.
Padmavati
stars Deepika Padukone as Rani Padmini of Chittor and it is she of the three principal actors who has been a primary target of abuse from protestors. Ranveer Singh and Shahid Kapoor play Khilji and Padmini's husband Rawal Ratan Singh.