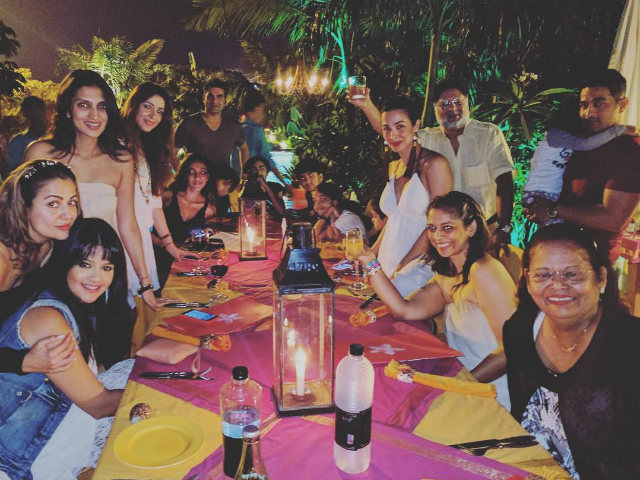 Highlights
Malaika and Arbaaz married in 1998 and have a son
Malaika, Arbaaz and Amrita are partying in Goa
Malaika and Arbaaz filed for divorce in November
New Delhi:
Actress Malaika Arora landed in the party destination Goa, a few days ahead of New Year's eve along with friends and family. Malaika and her sister, actress Amrita Arora let their hair down at the beach destination and shared envy-inducing pictures on Instagram. The 43-year-old actress
is separated from
actor-filmmaker Arbaaz Khan, who is still often spotted hanging out with her. And Malaika's new year celebrations is one such occasion. In November, Arbaaz, 49 and Malaika, 43, reportedly visited a family court with their lawyers in November and
filed for divorce
. Malaika and Arbaaz married in 1998 and have a son.
Amrita Arora have been sharing jealous-worthy pictures from inside the festivities. Ahead of the big New Year party, Amrita posted a group photo in which Malaika shares a table with her mother and son Arhaan while
Arbaaz can be seen standing
at the far end. Can you spot Arbaaz Khan in the picture below?
However, Amrita welcomed the New Year with a grand party on New Year's Eve and posted a photo of the party hoppers on Saturday night. Arbaaz can be seen posing with Arhaan but there Malaika is missing from the scene.
Seems like Malaika had already made up for her absence with plenty of posing in from the pre-New Year parties. Malaika, who is known for always being put together, redefined chic in a white jumpsuit. Malaika finished her look with burgundy danglers while Amrita opted for black and maroon separates. Both the sisters - Malaika and Amrita - stood out as uber-stylish from the rest of the girl gang.
Malaika was absolutely beach ready in striped swimwear during the day. Amrita accompanied her in a white off shoulder top and brown hat.
Can you pout like Malaika Arora?
Malaika Arora's
sultry picture with her girlfriends
sent the internet into a meltdown of sorts earlier this week, and we know why:
This is how Malaika and Amrita's Goa vacation kicked off:
Malaika and Arbaaz released a joint statement confirming their separation in March this year. "Yes, it's true that we are separated. The truth is, we have taken a break, but that doesn't mean people can presume, assume and speculate things of such malicious nature. We are taking out time to figure out our lives. We have maintained a dignified silence till now but it is causing us too much confusion and is disturbing for our families. To put all of the speculation to rest, we are giving out this statement. People claiming to be our friends and sources have been speaking on our behalf giving out wrong, malicious information. They have maligned us for long and we have kept quiet and not said a word as it's a personal matter between us. We have got a child and our families are involved, but just because we have not said anything till now, it doesn't give anybody the license to speculate on any rubbish about us," read their statement published in
DNA
.
Malaika joined the Khan-
daan
in their festivities even after the separation
:
Malaika and Arbaaz also celebrated Arhaan's birthday together:
They were last seen together on television show Power Couple, which they co-hosted for a while.
Malaika has starred in films like
Dabangg
, made by her husband and brother-in-law Salman Khan.
Malaika and Arbaaz
last made an appearance together on television show
Power Couple
, which they also co-hosted for a while.