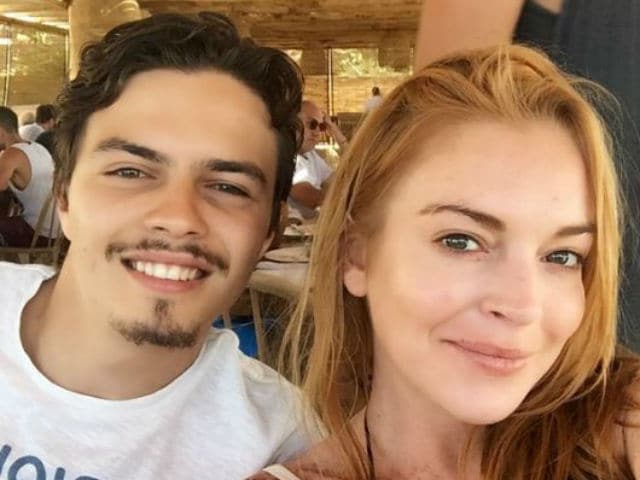 Highlights
I realise now you can't stay in a relationship just for love: Lindsay
Images of Lindsay and Egor have surfaced showing the two in a tussle
Egor can be seen grabbing and twisting Lindsay's arms
Los Angeles:
Actress Lindsay Lohan has broken her silence about her fiance; Egor Tarabasov's allegedly violent behaviour.
"I realise now you can't stay in a relationship just for love," she told the
Mail
on Sunday of the couple's public disputes.
"No woman can be hit and stay with that person if that person isn't prepared to say sorry."
Images of Lindsay and Egor have recently surfaced, showing the two in a physical tussle on a beach in Mykonos in early July. In the images, she can be seen throwing the Russian billionaire's phone out of their car and then making a break for the beach.
Egor quickly catches up with Lindsay and can be seen grabbing and twisting her arms behind her back as she struggles to get free.
Lindsay had also made headlines
after she got into a loud argument with Egor at their London apartment on July 23, culminating in her screaming from the balcony: "Please, please, please. He just strangled me. He almost killed me. Everybody will know. Get out of my house! Do it. I dare you again."
Police were called to the couple's apartment, but no one was charged in the incident.
In her interview with the
Mail
on Sunday, Linday explained the events that led to the tumultuous tussle.
"Egor and I had been out for dinner. We danced, it was fun," she recounted.
Further, she said: "When we got home I went to bed and Egor went out. A few hours later he came back and when I woke up he was standing over me. He wasn't himself, he was being very aggressive and he attacked me.
"There have been so many lies printed about me recently. I've kept quiet for so long but now I'm scared of what Egor might do to me and to himself."
(This story has not been edited by NDTV staff and is auto-generated from a syndicated feed.)