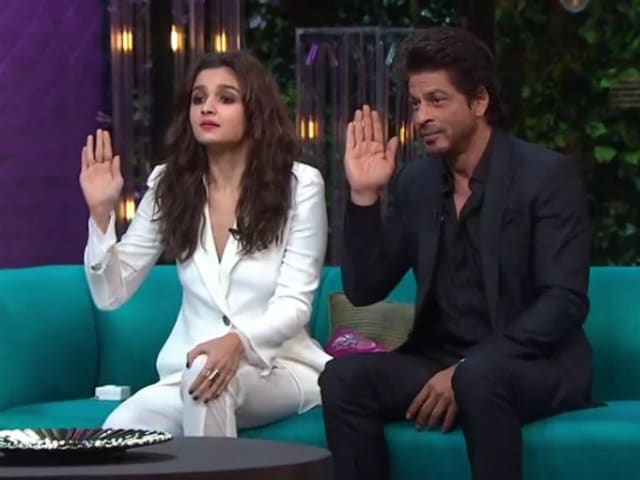 Highlights
Koffee With Karan premiered with Shah Rukh, Alia on November 6
Shah Rukh and Alia Bhatt will soon be seen in Dear Zindagi
This is the first time that SRK and Alia appeared on the show together
New Delhi:
Lots of fire... lots of energy... and absolute spontaneity are the key components for winning Karan Johar's Rapid Fire Round.
Shah Rukh Khan and Alia Bhatt inaugurated the
first episode of Koffee With Karan
with a Rapid Fire Round high on electric energy.
If you do not already know the winner, let's keep the mystery alive.
Here's how it went. Alia first because the norm is "Ladies first" and Karan is "polite":
*fight for the Koffee hamper begins*
Karan: One day if you were to wake up as a male actor, who would that be?
Alia: Akshay Kumar. I think he has a very nice life - he sleeps early, wakes up early. Great life.
Karan: If you could be invisible, which actress would you stalk?
Alia: I think Kangana Ranaut because she has a lot of lovely airport looks but I really want to know where she is going.
Karan: If not acting, what are the alternate career choices should the following people pick - Varun Dhawan, Ranveer Singh, Sidharth Malhotra
Alia for each one of them respectively: Marketing head, clothes designer, army
Karan: Have you ever had a crush on a co-star but never told him?
Alia: I am pretty vocal.
Name three recent Bollywood break-ups:
Alia: Sushant Singh Rajput and Ankita Lokhande, Ranbir Kapoor and Katrina Kaif... somebody else might be breaking up in the next moment. So, let's wait.
Karan: Between Ranbir Kapoor and Ranveer Singh, if they asked you on a date, who would you decline in favour of the other?
Alia: Can I decline them both? I don't want to go out with anybody.
Karan: Who is the first person that comes to your mind when I say the following?
Congeniality - Kareena Kapoor. Soon enough, Alia changes her answer to Dia Mirza.
Gossip Queen - Kareena
Mama's boy - Ranbir
Class clown: Parineeti
Most likely to be caught red-handed: May be me
Karan: If you have a matrimonial ad, what would it say:
Read the offer documents carefully before investing
A few more questions later, it was Rapid-Fire veteran Shah Rukh's turn. He owned it like a boss:
Karan: The role that you have regretted passing on
SRK: The Fourth Idiot
Karan: If you woke up as the following stars in the morning, what would you do?
SRK: Ranbir - single right now, so I would just continue sleeping
Ranveer - I would ask him where he got the padded underwear from
Alia - I'll just read the newspaper
Karan: Your first celebrity crush
SRK: Cheryl Ladd
Karan: If you were to be cast in Indian version of
Fifty Shades of Grey
, who would you star opposite?
SRK: Chains, handcuffs... Alia
Karan: If you have to use a pick up line, what would you say?
SRK: So, I walk up to the girl and say: "F me if I'm wrong. But isn't your name Madhushree"
Karan: What's the sexist thing about Shah Rukh Khan?
SRK: Honestly, the fact that I don't know what's sexy about me is sexy
Shah Rukh continued to combat Karan's tricky questions effortlessly. And soon, we had a winner - King Khan himself. Shah Rukh did confess that he'd be happy if Alia won the hamper but was too glad to accept it, yet again.
Shah Rukh Khan and Alia Bhatt
's
Dear Zindagi
is directed by Gauri Shinde and releases on November 25.