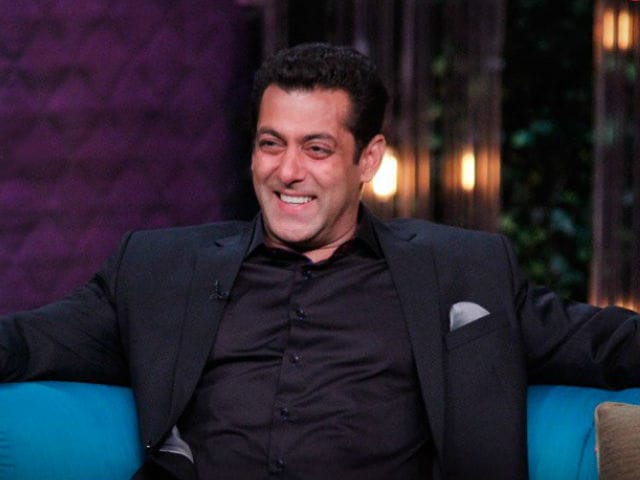 Highlights
Salman, Arbaaz and Sohail appeared on the special hundredth episode
Salman again confessed that he is still a virgin
The upcoming episode will feature Aamir Khan and his Dangal daughters
New Delhi:
The special hundredth episode of
Koffee With Karan 5
opened up with Karan Johar speaking about how his journey has been so far. Exploding with ecstasy, he
invited the Khan brothers - Salman, Arbaaz and Sohail
. As soon as the three entered, Salman took the host's couch and made Karan sit with Sohail and Arbaaz. Karan on the other hand accepted the offer overwhelmingly and said since this is a special episode, something new should happen. Later, Karan joked about the virgin comment that Salman made when he appeared last on the show and both said nothing has changed in a year.
Moving on, Karan took his role and started the conversation with praising the Khan family and the love and affection each one of them share. The conversation then moved to Sohail and Arbaaz's married life over which the latter commented, "Whom are you talking about?"
Childhood memories
The brothers then shared some anecdotes about childhood and growing up in one room and sharing each other's underwears, to which Arbaaz vehemently denied. Salman and Sohail then corrected themselves and said we never shared Arbaaz's underwear for his is large size. Karan was literally shocked to hear this and had a curious expression in his face.
Salman as a boyfriend
They then started the conversation about Salman and his relationships. On which Salman instantly replied that he is not the nicest guy when it comes to relationship. To which Arbaaz quickly replied, "He was good with others during the relationship, though all his girlfriends were close to the family."
Salman as an actor
Both the brothers and Karan lauded Salman's work, his commitments and perseverance. Arbaaz also revealed that the famous dialogues of
Dabbang
like
Cheddi Singh hum tumme..., Kaamal Karte ho..., Isse yaad aya...,
etc were given by Salman and weren't in the script.
Salman and Shah Rukh
Salman said that the issues weren't so big, but was made big. That didn't bother them and their families. Both the families used to meet on several occasions and now with time, their relationship has also built once again.
The cross fire round
Salman managed to stun everyone with his witty yet honest confessions he made during the show. As soon as the cross fire (rapid fire) segment came, Karan asked Salman about his relationship status, to which the superstar replied that he is confused and waiting for clearance. Karan then asked Arbaaz to name the person who cannot take the challenge 'No sex for a month', Arbaaz, while trying to control his laughter looked towards Salman. He again took Salman's name when asked about who cannot win 'No Workout' challenge.
Salman and Katrina, ofcourse
When Karan asked Salman to take the name of one actor who could endorse 'Being Clueless' title, Salman instantly took Katrina Kaif's name.
It seemed Katrina was on the top of Salman's mind all through the show
because as soon as he was asked to rate the actresses on a scale of one to five, without even hearing the options, he said, "First four is Katrina."
Later during the coffee quiz, the actor also showed a step from Katrina's song
Sheila Ki Jawaani
over which Arbaaz and Sohail replied that they are not allowed to do so. Also, Arbaaz was asked to imitate Malaika from the song
Munni Badnaam Hui
.
The Bermuda Triangle of the Khan's house
Sohail revealed that because he was the younger one, things did not use to reach him as his brothers were partial. He revealed that Arbaaz's room was called the Bermuda Triangle as every girl who used to step in the house went to his room and Sohail never used to get a chance to meet them or even see them. Poor him!
The episode ended with Sohail winning the coffee round with the help of Salman's acting and Arbaaz's coolness. Karan thanked the three for making the special episode even more special and for being honest in their replies.
Next to appear on the show will be Aamir Khan and his
Dangal
daughters Sana Fatima Sheikh and Sanya Malhotra. Also in the queue are Shahid Kapoor and Mira Rajput.