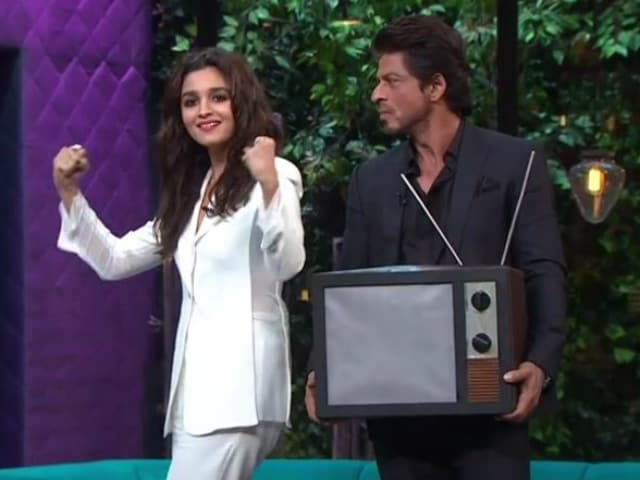 Highlights
Koffee With Karan premiered with Shah Rukh, Alia on November 6
Shah Rukh and Alia Bhatt will soon be seen in Dear Zindagi
This is the first time that SRK, Alia appeared on the show together
New Delhi:
Karan Johar + Shah Rukh Khan + Alia Bhatt
= awesomeness level off the charts.
Shah Rukh, 51 and Alia Bhatt, 23, co-stars of
Dear Zindagi
were the first guests on Karan's talk show
Koffee With Karan Season 5
, which premiered on Sunday. The almost-an-hour-long show will never make you reach out for the remote or yawn. You might want to get up for some popcorn though.
Shah Rukh and Alia opened up about the uncomfortable corners of their lives, their careers and where they stand in life at the moment. Karan, known for his tongue-in-cheek persona, enjoyed every moment with them. So did we.
Here are the Top Ten quotes from the fifth season's premiere.
Shah Rukh on being asked about why he was not part of Season 4
.
"Wanted the TRP's to drop a little of the show last year because I had taken them so high in the first one"
Shah Rukh and Kajol inaugurated
Koffee With Karan
with its maiden episode on November 19, 2004.
Shah Rukh to Karan on controversies:
"I have to justify my nationalism, you have to justify your love for me," SRK to Karan
Karan on Shah Rukh as a father:
"He behaves neurotic. He's that character from
Darr
about his family, about his wife, about his son"
Shah Rukh on working with Alia:
"This learning experience with Alia was more than what I did with you Bhatt
saab
(filmmaker Mahesh Bhatt, Alia's father)"
Shah Rukh on Alia as an actor:
"Alia is too good too soon. I don't want her to great trapped in just doing great acting without experiencing everything in Indian cinema. If you become too good too soon, you may have inhibitions being bad at times. It's really wonderful to be bad at times"
Alia Bhatt on being affected by the success of other actresses:
"I like to be the best at what I'm doing, But I'm not insecurely competitive"
Shah Rukh's "most embarrassing moment:
"
"Karan always walks inside the changing room with me. That's life's most embarrassing moment for me"
Shah Rukh Khan's state of mind:
"At rest but not at peace. Peace is boring"
What Shah Rukh said when he was asked to do an impression of news anchor Arnab Goswami:
"Don't make him famous!"
Shah Rukh also referred to a blooper made by Alia on the show's last season, when she mistakenly named Prithviraj Chavan as the President of India instead of Pranab Mukherjee. As a result, Alia has been the subject of several jokes and trolls.
But she beat Shah Rukh in the General Knowledge round this time, prompting the actor to say:
"Pranab Mukherjee changed your life"
Shah Rukh Khan and Alia Bhatt's
Dear Zindagi
is directed by Gauri Shinde and releases on November 25.