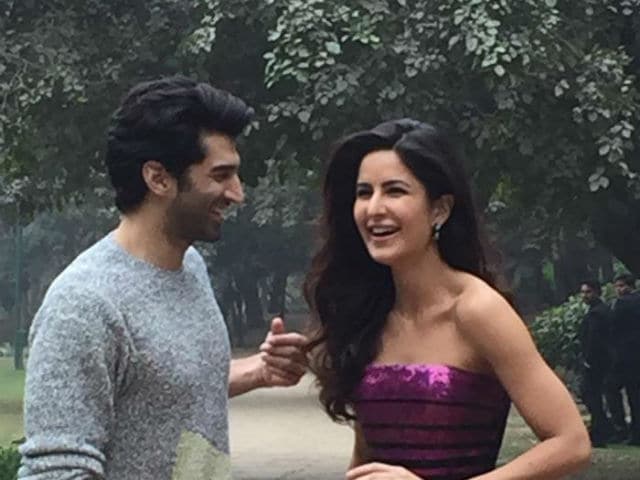 New Delhi:
Pashmina
, the latest track from upcoming film
Fitoor
, seems like a warm embrace but for the lead stars, Katrina Kaif and Aditya Roy Kapur, the sensuous balletic number was no easy feat. Katrina, in particular, says she felt challenged by the intricate choreography and was unsure she could pull it off. (Also Read:
Katrina Kaif Will Take Your Breath Away in Fitoor Song Pashmina
)
Her
Fitoor
character Firdaus, the
desi
interpretation of Estella from Charles Dickens'
Great Expectations
, was also something of a challenge. Katrina says Firdaus is far removed from her own self, easily manipulated and not a believer in love. However, playing characters far removed from her own reality is the point of being an actor, Katrina believes.
If she could have rewritten Estella, she would. Katrina says, "It may sound like sacrilege but I would have liked Miss Havisham and Estella, Firdaus and Begum, to have one last conversation. Sometimes, it's nice to get closure." Given the chance, the 32-year-old actress would like to do a
Gone With The Wind
or
Taming Of The Shrew
.
To those who have been speculating that Katrina is cutting down on her work so as to focus on her personal life, she says, "It's nothing of that sort. I have been working on three films - it's just that some delays, as in the case of
Jagga Jasoos
, have happened. It's but natural."
Does she feel the need to be constantly in the news? The more you are seen, the more you are written about?
"It's something which is important for some people and there is no escaping it in today's day and age. But I'm very happy taking a back seat. I am private," she says.
On the subject of privacy, we bring up the GQ interview in which she massively let her guard down. With that interview, Katrina managed to scorch the tabloids - does she feel things get blown out of proportion?
"No, I dont think anything is blown out of proportion. The media has been very nice to me and I'm not trying to be politically correct," she says. Does she feel the need to speak about her life since everything seems quite out in the open? "No, not particularly. I just feel my personal life is my own and people should know me by my work," Katrina replies.
How does she rate her personal and professional life on a scale of 10? "I hope to score a perfect 10," says Katrina, who is dating actor Ranbir Kapoor.
Lastly, what does she expect this Valentine's Day? "I have not received a gift on Valentine's Day," she complains. Hope you are listening, Ranbir.
Fitoor
, directed by Abhishek Kapoor and co-starring Tabu, releases on February 12.