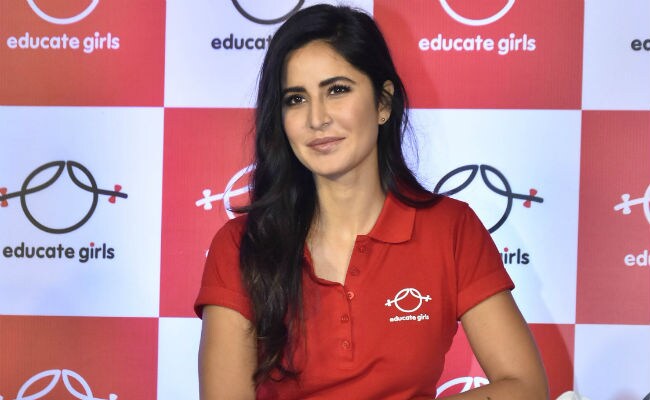 Highlights
'Do I really support women as much as I can?' asked Katrina
'A lot of things start with mindset,' she added
'A movie is an amazing way to get the message across,' she also said
New Delhi:
Katrina Kaif
, who was recently appointed the ambassador for non-profit organisation Educate Girls, fired an array of uncomfortable questions when asked about women empowerment. When asked about the necessary steps she thinks should be considered to promote women empowerment, the 34-year-old actress told IANS: "I think a lot of steps have been taken all over the world. Whether it is equality at the workplace, whether it is the attitude we have towards each other, even for that matter the attitude that women have towards each other." This is what she added as side-note: "Lately, I have become aware of it myself. Sometimes, I honestly feel that do we really support our contemporaries? Do I really support women as much as I can, the women who are around me and in my work area?"
Katrina also added that stiff competition in any sphere of profession can also hinder the issue of women empowerment. "Sometimes the competitive mind-set can actually stop you from being cooperative and encouraging towards others and I myself have become more aware of that. Am I lifting up the women around me? Am I doing what I can to support them and encourage them or to help them grow?" IANS quoted her as saying.
Katrina Kaif, who made her debut in Bollywood with 2003's
Boom
, is one of the most sought after actresses, the list of which also includes names like Anushka Sharma, Deepika Padukone and Kangana Ranaut.
Katrina said she's doing her part to encourage more and more women to become confident and professional: "Rather than just seeing what they (women) can do for me, I am trying to encourage them to become better in their profession, whatever it may be. So for me, that is very important. A lot of things start with mindset. We all can address our mindset and make sure as to what are we doing for the women around us."
When asked about films made on the subject and also promotion child education, Katrina cited the example of Aamir Khan's
Secret Superstar
and said: "That movie had that message. That was definitely the message that got across. A young talented girl who is being stopped from fulfilling her dreams because the society and world around her are not allowing her to do that. So for me, there are movies being made like that. You don't necessarily need a movie just about the classroom."
"A movie is an amazing way to get the message across. Someone making a movie on this would be outstanding," she added.
Katrina Kaif was last seen in Salman Khan's
Tiger Zinda Hai
and is simultaneously shooting for
Shah Rukh Khan's Zero
and Aamir Khan's
Thugs Of Hindostan
- both films releasing this year.
(With IANS inputs)