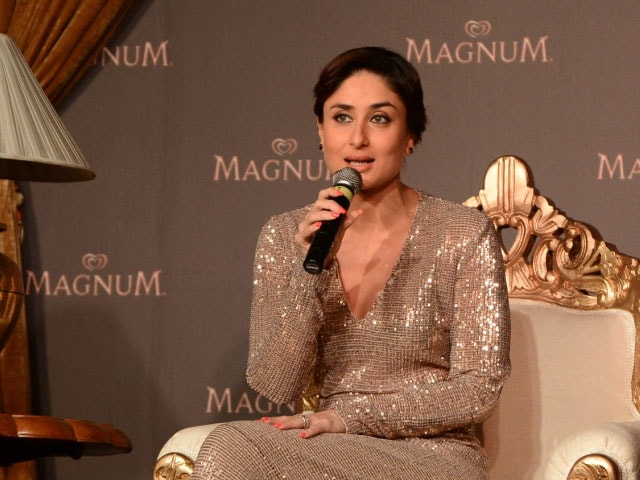 Actress Kareena Kapoor Khan made a glittering style statement in a shimmering coffee-coloured gown in the capital where she was announced as the new ambassador for a well-known ice-cream brand.

Though under the weather, the begum of Pataudi looked ravishing with her hair up in a chignon, bright lipstick and "glittering rocks" on her fingers.

For a woman who has it all, Kareena admitted that her weakness was chocolate, especially if it was rich chocolate or a coffee ice-cream.


So, who is the chocolate in her life? "I have so many gems, but it would have to be my niece and nephew," said Kareena.
And who would be the nut? "Obviously my husband, who drives me nuts," she said.
The actress, who has two films in hand, said that she had not taken a back seat but after 15 years in the industry, she would prefer to do stuff that interests her and not take up movies just because a friend is doing it or it promises good returns.
With her next film
Bajrangi Bhaijaan
opposite Salman Khan slated for an Eid release, the actress, who will be seen with Salman on the big screen after the 2011 blockbuster
Bodyguard
, said "People are excited to see me and Salman but the catch here is Kabir Khan. You would see Salman in a never before role and honestly, I am as excited as the audience."
Udtaa Punjab
will see her opposite Shahid Kapoor, eight years after
Jab We Met
, their last film together. "Ya, I know everyone is saying we are back but the movie is like
American Hustle
. Everyone has different tracks in the film and we aren't going to be sharing screen space. But yes, good to be working with Shahid, he has really evolved as an actor," said Kareena.
So who does she think from the present crop has it in them? "Honestly, I don't watch too many movies. I know I should but really haven't got down to seeing films."
"I watch a lot of TV shows," admitted Kareena. On being asked if she has seen the AIB Roast, Kareena said, "Oh no please, I really have no interest in watching it".
On being asked about her views on the controversy, she said "India has better and far more important things to worry about than AIB."
So does husband Saif have any say in her choice of endorsements? Kareena, with a twinkle in her eyes, said, "No, he doesn't have a say in anything in my life other than to love me."
Last but not the least, the daughter-in-law of India's former cricket captain Nawab Pataudi, was asked who she was cheering for in the ongoing World Cup. "VIRAT KOHLI!!", came the response.
Watch: