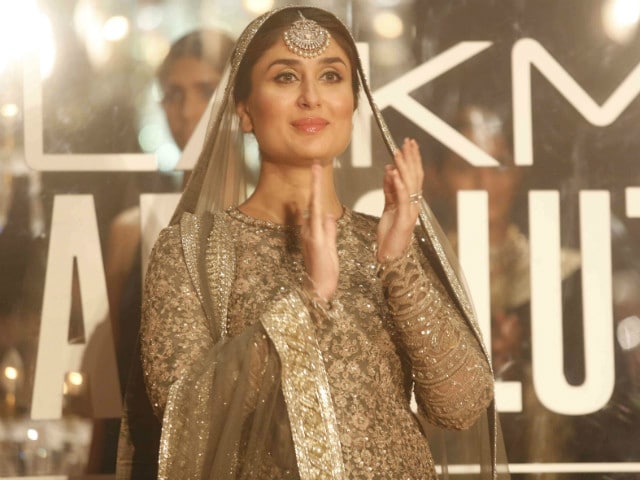 Highlights
'I don't look at it like any change,' said Kareena Kapoor Khan
'Pregnancy should not be looked upon as a disease,' Kareena added
'Pregnancy is the most beautiful phenomenon,' Kareena said
Mumbai:
Actress Kareena Kapoor Khan, who is expecting her first child with actor Saif Ali Khan in December, says pregnancy should not be looked upon as a disease wherein women can or cannot do certain things.
"The most important thing is that pregnancy should not be looked upon as some sort of disease of any kind. It's the most beautiful phenomenon that can happen to a woman. I would continue to do as normal things as everybody else because that's what it is," she said.
"It's most natural phenomenon and there is nothing wrong with it. In fact it's a joy," Kareena told IANS when she was asked how it felt to
walk on the runway as a showstopper for Sabyasachi Mukherjee
at the Lakme Fashion Week (LFW) Winter/Festive 2016 with a baby bump.
Is Bollywood being supportive of her new phase?
"But why should they not be," questioned Kareena, and added: "I don't look at it like any change. I know of course everyone prefers 16-year-olds dancing around in miniskirts, but there is a certain amount of stature that is required for certain roles. And that will always be there."
At the LFW finale, Kareena was glowing in a bespoke and beautiful elegant lehenga created by Sabyasachi.
Asked if pregnancy has affected her personal style, she said: "Luckily, I have always been an actor who has gone for things that have suited my personality. I have never really tried to follow any particular trend."
"It has always been more casual chic or whenever I am out for the evening, I prefer to wear something that I am comfortable in, something which is a lot more elegant and regal because I believe my fans expect that from me," Kareena added.
LFW, a five-day fashion extravaganza, ended in Mumbai on Sunday on a high note with designer Sabyasachi's collection on display.
(Except for the headline, this story has not been edited by NDTV staff and is published from a syndicated feed.)