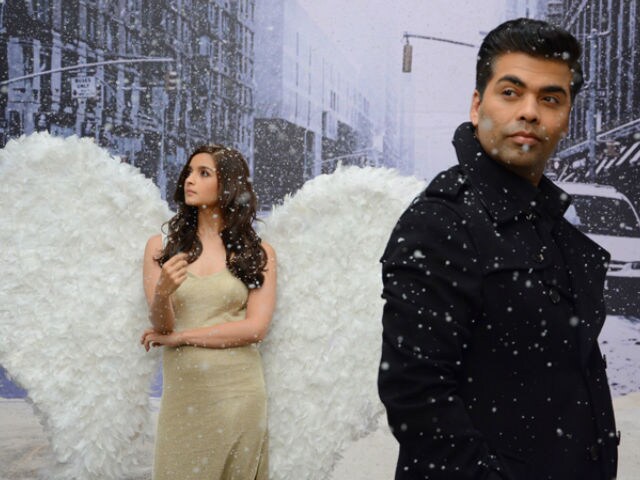 Highlights
KJo wrote he is no longer 'chasing' sex in his latest piece
Karan Johar said that 'fame took the place of some of the shame'
Here are five big quotes from Karan Johar's column
New Delhi:
All of three columns old on NDTV.com, filmmaker Karan Johar's
new piece on sexuality
has been warmly welcomed on Twitter. 'Karan Affairs,' his column, trended on Wednesday.
The 44-year-old director of films like
Kabhi Khushi Kabhie Gham
and
Kabhi Alvida Naa Kehna
wrote about no longer "chasing" sex in a piece titled "I Don't Get Sex - And I'm No Longer Trying."
On Twitter, actresses Alia Bhatt and Aditi Rao Hydari led Bollywood in praise:
One word - EPIC! Also I think we might have found a new "cool" word ! AOMO https://t.co/9nYgiAsq4k

— Alia Bhatt (@aliaa08) June 29, 2016
#AOMO trumps #FOMO... @karanjohar this is epic, you are epic... Blanket trump! https://t.co/0R6UJsAFu3

— Aditi Rao Hydari (@aditiraohydari) June 29, 2016
"Are u good in bed? For me, good in bed means sleeping 7 hours. Undisturbed! If I get 8, that means I'm amazing!"
https://t.co/lkeDSvXToy

— atul kasbekar (@atulkasbekar) June 29, 2016
After @mrsfunnybones its @karanjohar who shines as a columnist with self-effacing wit, charm, candour and disarming honesty.

— Hansal Mehta (@mehtahansal) June 29, 2016
And this is what Twitter is saying:
Situation demands to read current affairs but I literally love Karan affairs .worth to read such an honest piece...kudos.

— Abhishek chandel (@imchandel) June 29, 2016
Really impressed by this short, brave piece by @karanjohar on sex and the acceptance of missing out. https://t.co/bTcicqkF6t via @busydot

— Richa Kaul Padte (@hirishitalkies) June 29, 2016
Dear Parents, do read this article if your child is ushering adulthood. The rest of the content is self... https://t.co/E7ADf8EgRi

— BHOLANATH RINDANI (@bprindani) June 29, 2016
If you are reading just one article today read this! Wit, humour and sex.. Quite a read this! #karanaffairshttps://t.co/vvtyktZnS6

— Vishakha (@vishakhatalreja) June 29, 2016
Much respect to @karanjohar for this authentic and honest take on his life under the covers :) #AOMOhttps://t.co/QchlOypfm7

— Divya Kumar (@divku) June 29, 2016
Here are five big quotes from Karan Johar's column:
"By the time I lost my virginity, I was 26 and that was after
Kuch Kuch Hota Hai
when I felt mildly famous. And so fame took the place of some of the shame."
"With fame I stopped feeling I had to hide: lights didn't have to be all the way off, I felt I could flirt without being slapped. But it was hard work getting there from the fat kid I was - ashamed of his body, ashamed of who he was, largely sexually ignorant and convinced he wasn't attractive to anyone. Which is probably why the first time I had sex, all I could say was 'thank you'!"
"I also wonder if we are programmed by movies and rom-coms and ads and the general popular narrative to feel sexy in ways that aren't achievable. We seem to forget that sex when it happens is often clumsy and sweaty and sloppy and not always that sexy."
"I feel liberated not experiencing it anymore - or chasing it any more. There's no longer fear. I have now proudly informed my therapist that I am going through AOMO - the acceptance of missing out."
"I'm also saying (to myself as much as to anyone else) that it's ok to feel unsexy. It's ok to feel nervous, it's ok to not have moments that feel written out of a movie script. I feel Victoria may have a Secret but you don't have to know it! And those Calvin Klein models - don't be fooled by the socks that they got."