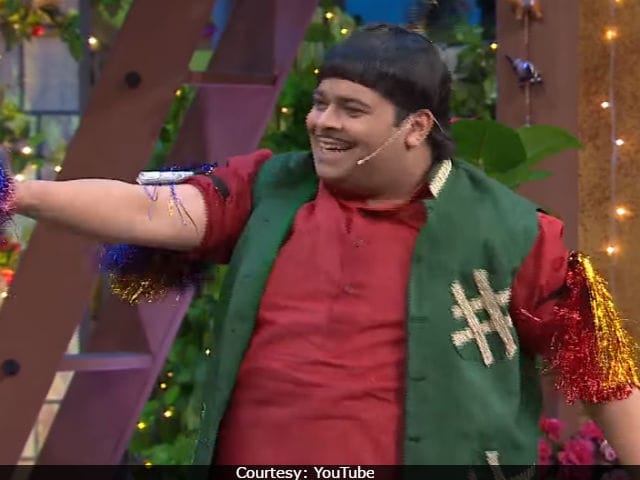 Highlights
"We can't keep track of who cracked what joke," says Kiku Sharda
Team Kapil Sharma Show is accused of 'lifting' content
"Plagiarism is not Ok, I am feeling angry," wrote Abijit Ganguly
New Delhi:
Just a day after
The Kapil Sharma Show
celebrated its 100th episode, the show was accused of plagiarism in a fresh controversy. Stand-up comedian
Abijit Ganguly alleged that some segments of the show, featuring Kiku Sharda, was 'lifted' from his script
. However, Kiku Sharda has denied all plagiarism charges, reports
The Times Of India
. "We are a big team and brainstorm before every episode. Someone cracked this joke and we made it a part of the script. It is possible that the same idea came to our writers, or maybe they had heard it somewhere. It is not that we do not use popular SMS or WhatsApp jokes. We can't keep track of who cracked what joke and when," he told
TOI
.
In the special 100th episode of Kapil Sharma's Show
, Kiku Sharda had cracked jokes about how 'elder brothers don't let their younger siblings bat.' The guests of Sunday's episode were Indian women cricket team members- Mithali Raj, Harmanpreet Kaur, Veda Krishnamurthy and Jhulan Goswami.
Watch Kiku Sharda's performance on The Kapil Sharma Show
(at 52.20 minutes).
Now, watch Abijit Ganguly's performance.
In a Facebook post, Mr Ganguly accused the writers of
The Kapil Sharma Show
of plagiarism. He wrote, "I had released a stand-up bit on YouTube and Facebook on 'having an elder brother' around two weeks back. One of the jokes in the routine is an observational joke on how from Kapil Dev to Zaheer Khan (citing some other names, such as Harbhajan Singh, Srinath, Kumble) all successful Indian bowlers have been co-incidentally younger brothers, leading to the punch of 'Do you realise how weird it is that India's bowling strength depends on the fact that elder brothers never let younger brothers ever bat'. I have been doing this bit for over three years now and most people, who have ever been to my show in the last three, would have heard this. And modesty aside, many have told me that this was one of their favourite jokes."
Abijit Ganguly added that a friend informed him that his joke had been lifted in
The Kapil Sharma Show
. "I was genuinely flustered but still wanted to check before drawing any conclusions. Having checked online, I am disappointed and gutted to see that they have indeed done that. No Kapil Sharma, plagiarism is not OK. It is not OK to do this. It is not OK to lift a man's joke and do it on national TV where millions will now think you goddam wrote that joke, and if I am to ever perform it, it comes off as I lifted it," he wrote.
Read Mr Ganguly's post here:
Months ago, the show made headlines over a fight between Kapil Sharma (host) and Sunil Grover, now his former co-star. Mr Sharma is accused of hitting Mr Grover on a flight, after getting drunk. After the fight, Sunil Grover quit
The Kapil Sharma Show
and his social media posts suggests that the comedian plans not to make a comeback. However, as the show completed its centennial episode,
Mr Grover said that he will always be grateful to the platform and he completely enjoyed his stint
.