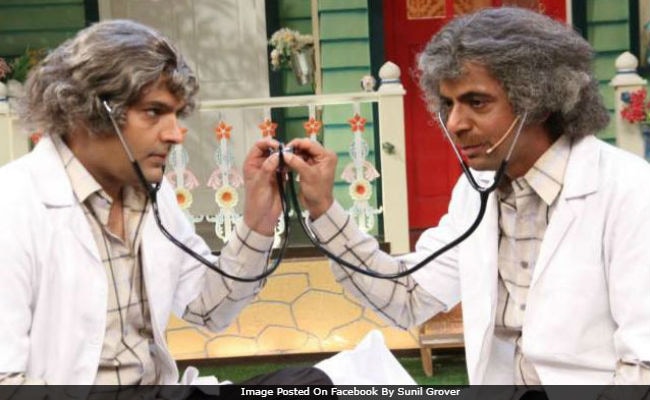 Highlights
Kapil said that the fight happened with Chandan Prabhakar
"Don't have any problem with Sunil," said Kapil
Kapil is currently prepping for the release of Firangi
New Delhi:
Actor-comedian
Kapil Sharma, who is accused of allegedly assaulting former co-star Sunil Grover
while flying to India from Melbourne, several months ago, denied the infamous fight, news agency IANS reports. Kapil, Sunil and team
The Kapil Sharma Show
were on their way to India after completing a show, when the incident reportedly took place. "When you move with such a huge team, you have to manage a lot of things and I am really bad at it, I will say that much. Touchwood, we have been working together for many years and I would like to repeat it one more time, I didn't actually fight with Sunil Grover at all. It didn't happen," Kapil, 37, said at the trailer launch of his forthcoming film
Firangi
.
The Kapil Sharma Show
suffered a massive upheaval, as Sunil Grover quit the show and later, his co-stars
Ali Asgar and Chandan Prabhakar also followed him
. Sunil famously played Dr Mashoor Gulati and Rinku
Bhabhi
on
The Kapil Sharma Show
.
Kapil Sharma, the headliner of the show, said that the fight happened with Chandan Prabhakar and not with Sunil. "When we reached Australia, since the first day, my mood was really bad. I was juggling so many things, I was shooting the show and for other things. During that time, my film's artiste died. I was so nervous and turned so negative. I wanted to cancel the Australia show but couldn't and before the show, a girl came to me complaining about a guy who happens to be my childhood friend, Chandan. I scolded him. I had to perform for one and a half hours and that girl and boy artiste had 10-minute stints. My whole thing was, 'You are bothering me with this when I have such a long performance ahead'. I am a little impulsive. Chandan went missing for five days. I wanted to meet him and apologize because I didn't listen to his side of the story. I saw him one hour before the Australia flight and I lost it again and I used cuss words again".
Kapil further explained that he has no issues with Sunil and said that if he would have been in his place, he would have clarified things. "I love him. I like to work with the best of people. When I was doing
Comedy Circus
, I used to tell people, 'I met this guy Sunil Grover in
Hans Baliye
. 'Let's get him, I saw his show, I liked him'. When you work with the best, you learn a lot. Sunil and I, we have known each other for nine years now, and we have been working together for five years. I don't have any problem with Sunil, but had I been in his place, I would have definitely asked one time that 'I haven't seen you like this in five years, why are you behaving like this'?" Kapil told IANS.
"Maybe nothing would have happened. But still nothing has happened, I love him," he added.
The Kapil Sharma Show
was given a temporary break a few weeks ago, after Kapil's health conditions deteriorated and he admitted to be
deeply affected by the mid-air fight
. He later went sought medical help for complete detoxification. After Sunil Grover's exit, the TRP of the show dipped enormously.
Kapil Sharma's
Firangi
, a period drama film set in the year 1920, directed by Rajiev Dhingra, releases on November 24.
(With IANS inputs)