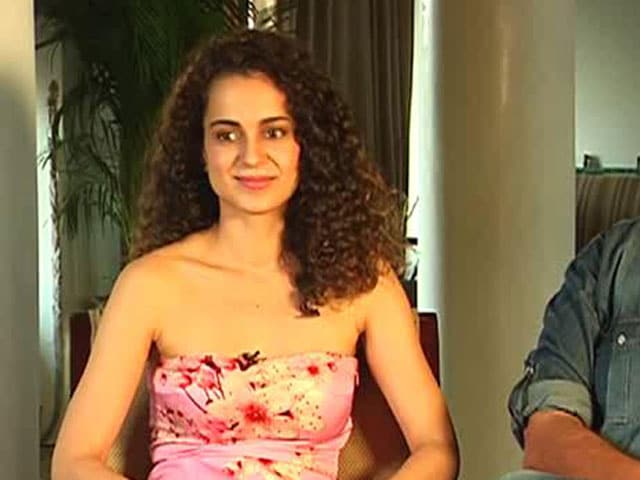 New Delhi:
In an exclusive conversation with NDTV a few hours before she collected her National Award for Best Actress in Delhi on May 3, Kangana Ranaut spoke about the coming of age of the Bollywood heroine, her absence from social media and how her role in her upcoming film
Tanu Weds Manu Returns
is a step ahead of the one in
Queen
.
The 28-year-old actress, who won the National Award for her feisty performance as 'Rani from Rajouri' in
Queen
, said that the vamp is now a Bollywood heroine. "Five years ago, a girl who drinks and doesn't mind casual sex and flirts around was not considered a heroine, she was considered a vamp. We did something and it became so popular that after that the quirky girl and rebel has become a popular quintessential Bollywood heroine," she said.
Kangana also said that Bollywood now views her differently and she hopes to live up to popular perception. "Apparently my trailer is the most tracked trailer of the year and the trade is saying we have high hopes with
Tanu Weds Manu Returns
and I don't want to disappoint them," she told NDTV. Unlike several of her contemporaries, Kangana has been rather unsocial on social media, steering clear of Twitter and other networking platforms. She places the blame for her absence from social Cyberia on the demands of her job.
"I really don't know what to communicate to people and job is so demanding and my friends and family say that you are not reliable at all. You go missing for six months. I don't want to have the pressure of being there all the time because my life is very demanding. They don't write easy roles for me. With
Tanu Weds Manu Returns
, they wanted to give me a role which goes a step ahead of Queen, which means it will be a lot more challenging. So, it means my life is not easy and I can't afford to be on social media and be a social butterfly," she said.
We asked Kangana if Bollywood actresses encountered the sort of 'red carpet sexism' that Hollywood is now waging war against. She said, "It's not as bad as it was a few years ago. I've been around for nine years and it was really bad four or five years ago. On everything they were negotiating money by reminding you of your short shelf life of three-four years. I was asked 'what are you planning to do after that?' At least now there are no more stupid questions like that."
Directed by Anand L Rai,
Tanu Weds Manu Returns
, a sequel to 2011's romantic comedy
Tanu Weds Manu
, features Kangana in a double role opposite R Madhavan and will hit the screens on May 22.
Watch