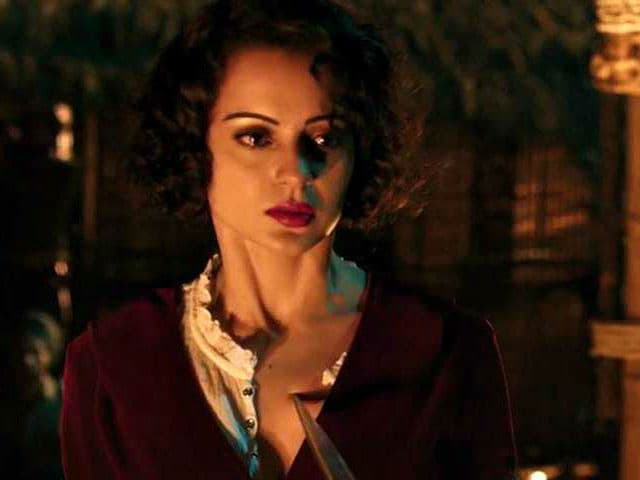 Highlights
I know I won't always succeed. But it is all right," said Kangana
Kangana featured as a stunt actress of 1940s vintage in Rangoon
Kangana Ranaut has won 3 National Awards
New Delhi:
Actress Kangana Ranaut is taking the failure of her new film Rangoon in her stride. The 29-year-old star told news agency PTI that she knows she won't "always succeed" and she's okay with that.
Rangoon
, in which
Kangana's performance as a stunt actress of '40s vintage
has been widely praised, released last month and has performed dismally at the box office despite being mostly well-reviewed. "I don't fear losing out. I constantly try and move on. If you don't move on, you lose out. One needs to know the trick to move on to see the constant growth. That is what my endeavour is. I know it is not possible that I will always succeed in whatever I do. But it is all right," Kangana Ranaut told PTI.
The outspoken actress is admired for her work, winning three National Awards, but kept at an arm's length by Bollywood for her plain speaking. She told PTI that she is introverted, rather than arrogant as perceived. "People mistake my introvert nature or my genuine disliking for them as arrogance. It's taken for granted that women should be receptive of whatever and whosoever comes to their way. But there is a possibility that she is genuinely disinterested and wants to be in her shell. It's just that I don't waste time on equations that are not going anywhere or don't add to my life in any way. It will be a waste of time," Kangana told PTI.
She certainly didn't waste any time telling filmmaker Karan Johar on his show
Koffee With Karan
that he is the 'flag bearer of nepotism,' a charge that he allowed to pass on the show but has now addressed. Speaking at an even in London over the weekend, Mr Johar said he was '
done with Kangana playing the woman and victim card
" and that if she considers the film industry 'bad,' she should quit.
Rangoon
, directed by Vishal Bhardwaj, is a tale of romantic intrigue set against the backdrop of World War II in Burma and the activities of Netaji's Indian National Army in the region. Kangana's character is torn romantically between a film producer and a soldier, played by Saif Ali Khan and Shahid Kapoor respectively.
Kangana Ranaut's next film is
Simran
, directed by Hansal Mehta. She is also prepping to play Rani Lakshmibai in the Ketan Mehta-directed biopic.
(With inputs from PTI)