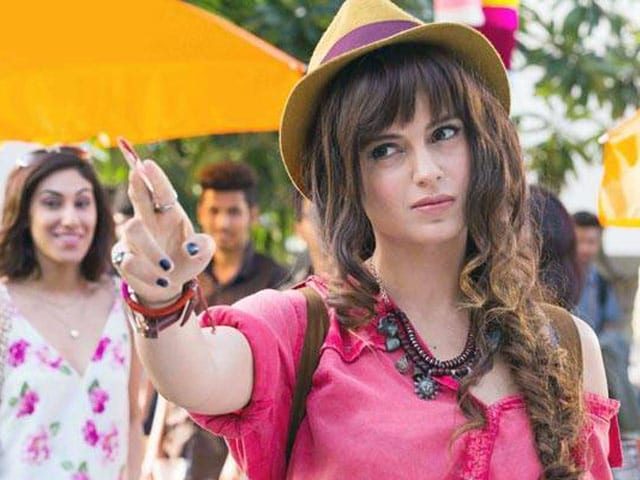 New Delhi:
Queen
of hearts Kangana Ranaut's recent outspoken comments have made her a tabloid favourite. "You have me to thank. I am giving you so much masala," the actress told NDTV.
Her bark, however, is worse than her bite. The actress said, "I am having fun, just spicing things and giving you some
karara chatpata mazaa
. I know people get hassled. And when I realize what's bothering them, I add more
theekha
. Come on, I mean no harm. At least when I am 90, I can look back and say I had fun." (Also Read:
Stop Turning What Kangana Ranaut Says Into 'Shocking Headlines'
)
Is Kangana trolling us then? Don't know if the many at whose expense she is having fun feel the same, but the actress said that there are no hard feelings and urged folks take it in the right spirit.
Are you listening, Deepika Padukone? Much has been made of the two actresses reportedly being
katti
with each other. (Also Read:
I am Horrified to See How Bitter People Can Get, Says Kangana
)
Kangana admitted that the role of Payal from
Katti Batti
was her toughest one till date. Kangana said, "This character is complex and has too many layers. She says something, does something and means something else. So I wanted to get under her skin." (Also Read:
Kangana Won't Play a Character as 'Tragic' as Katti Batti's Payal Again
)
Katti Batti
, co-starring Imran Khan, is a film about falling in and out of love. So we asked Kangana if she has a break up ritual.
Yes, of course - Kangana was more than happy to share her wallow wisdom. Here's her advice on how to deal with heartbreak: "Sugar. Binge on cupcakes lots of them after that get on to a salt rush. Sugar and salt combined will flush out your system then get on to your feet and give your ex the boot." (Also Read:
Kangana Ranaut's Romance Advice Will Help in Always Batti, no Katti
)
"And closure is important, fire the last salvo with confidence," she added. So, what's her classic break-up line? "I'm glad you ended it. I was on a charity project, good bye," she said, completely straight-faced.
Ouch, that one hurt. Sitting next to her, Imran winced in pain. Sympathies for the one who had to face that major burn - Kangana's actually used that line.
Post
Katti Batti
, it's London calling for the
Queen
of Bollywood. Kangana's getting set to share the platform with none other than Meryl Streep at a panel discussion. 'I am giving a talk there', said Kangana excitedly.
Let's hear it for Rani from Rajouri - we have no doubt that it will be
London Thumakda
.
Watch: