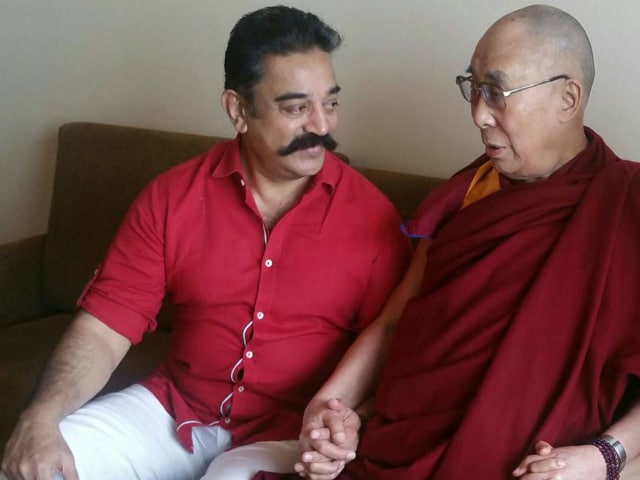 Chennai:
Actor-filmmaker Kamal Haasan, who met Dalai Lama on November 10, said that the Tibetan spiritual leader suggested that he uses cinema as a medium to spread
ahimsa
.
Dalai Lama was in Chennai to launch the Abdul Kalam Seva Ratna Awards and deliver a lecture on Human Approach to World Peace at the IIT Madras, as part of its Extra Mural Lecture series.
"My lack of interest in matters of things spiritual in nature was matched by his disinterest in cinema. He has not watched a single movie, not even television. Yet he opined that I could use my craft and medium to propagate the great philosophy offered to the world by India:
Ahimsa
," Mr Haasan said in a statement.
"I confirmed my faith in
Ahimsa
and said that I will venture soon in that direction," he said.
The
Thoongavanam
star wrote on Facebook: "Inspite of the fact that I am rationalist and hence not spiritually bent, my meeting was invigorating and felt purposeful."
"For a man of his position, he indulged in small talk with the sign of a man who had no worldly worries," he added.
Mr Haasan's latest Tamil film
Thoongaavanam
released in cinemas on November 10. (Also Read:
Kamal Haasan Reveals Secret Behind Thoongavanam's 60-Day Wrap
)