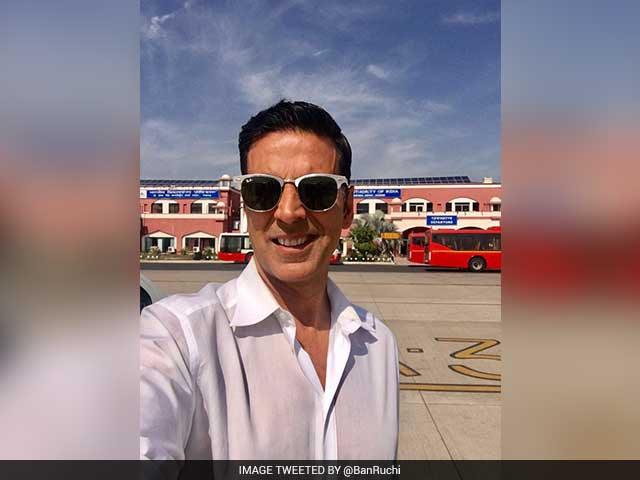 Highlights
Jolly LLB 2 is a satire set in the courtroom
Jolly LLB stars Akshay as lawyer Jolly Mishra
Jolly LLB 2 releases this Friday
New Delhi:
Akshay Kumar's new film Jolly LLB was partly shot in Lucknow and that's where promotion duties for the film have ended. Akshay and c
o-star Huma Qureshi
have been on a whistle stop tour of cities from Ahmedabad to Dubai to New Delhi and now, as Akshay revealed on Instagram, Team
Jolly LLB 2
are in Lucknow. "Ending the promotions where the journey of Jolly started. Now the case is in your hands," Akshay Kumar wrote in his caption. Jolly LLB 2,
a satire set in the courtroom
, stars Akshay as lawyer Jolly Mishra and Huma as his inamorata Pushpa Pandey. Jolly LLB 2 releases this Friday, but not intact - four scenes have been deleted on demand from the Bombay High Court, which ruled that the scenes mocked lawyers. Akshay, meanwhile, has a film to promote:
A hashtag counting down to the film has been a top Twitter trend all of this week.
Yesterday, the producers of the film decided they would accept the edits ordered by the Bombay High Court, after originally having asked the Supreme Court to over-rule the decision. One deleted scene reportedly shows Akshay Kumar's character urging his client to throw a shoe at the judge; another allegedly shows lawyers playing cards and dancing in court. These scenes were passed by the Censor Board.
Jolly LLB 2
, directed by Subhash Kapoor, is a sequel to the 2013 sleeper hit starring
Arshad Warsi
in the title role. Of the original cast, Saurabh Shukla returns in the new film. Annu Kapoor plays the antagonist in the 2016 edition, a ruthless lawyer who tangles with Jolly Mishra as Boman irani's character did in the first film.