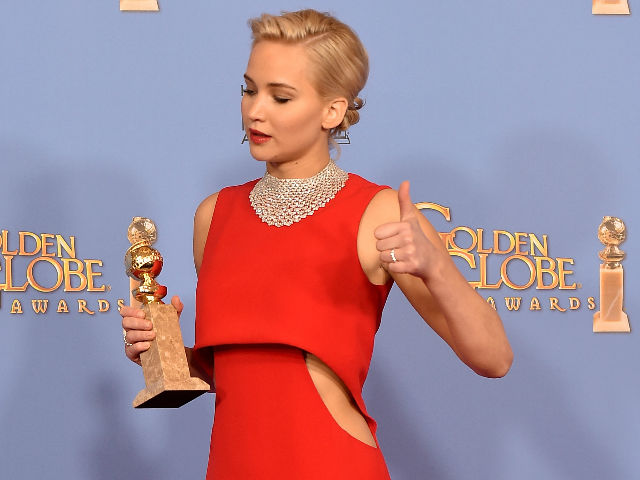 Los Angeles:
Joy
actress Jennifer Lawrence was criticised by Twitter users for scolding a foreign reporter, who looked at his phone while asking her a question at the 73rd Golden Globe Awards, reported
Aceshowbiz
.
The 25-year-old actress, who won the Best Actress (Comedy or Musical) Golden Globe, has been accused of being rude to a reporter, who asked a question about her big win at the event.
The controversy began when a journalist kept his eyes on his phone while asking Jennifer a question during the press conference. The reporter had not even finished his question, but the actress suddenly interrupted, "You can't live your whole life behind your phone, bro." (Also Read -
Golden Globes: Top 10 Moments, Starring Leonardo, Stallone and Brad Pitt
)
The reporter then apologised and continued, but Jennifer interrupted again, "We're at the Golden Globes. If you put your phone down you'd know that."
Some considered it as a joke and it indeed entertained the participants of the conference thay all laughed, but some people were not happy about it.
Several viewers suggested that the reporter was a foreigner and English wasn't his first language. They pointed out that the reporter might have been looking at his phone to make sure that his sentences were correct. Some Twitter users were disappointed with what Jennifer had done and had expressed it clearly.
Jennifer Lawrence is going from fun, lovable gal to problematic, obnoxious hoe real quick she better sort it fast https://t.co/aHRdjDwTGe

— GOGGLEBOX LOUIS (@Louisxmichael) January 11, 2016
"you gotta get off your phone and live in the now" -jennifer lawrence solving the problems of everyone trying to learn new languages

— farwz (@farwzaz) January 11, 2016
Wow, Jennifer. You're so cool and sassy. So edgy. Sorry English isn't the first language for everyone. :/ https://t.co/l4HMJ0GG17

— K/S (@Kylypso) January 11, 2016