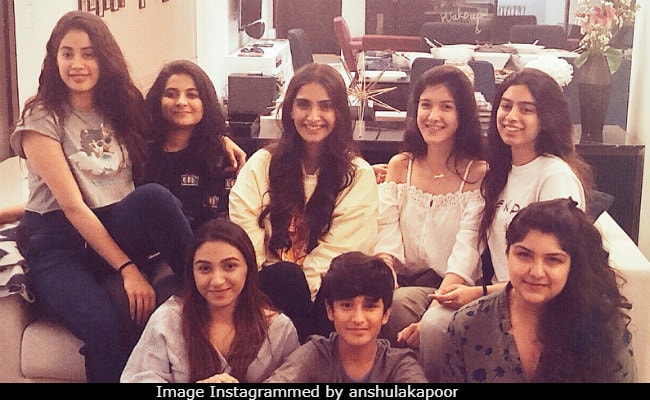 Highlights
Janhvi celebrated her birthday with her family
Sonam, Maheep and Anshula shared the pictures
"What's the hurry to celebrate the birthday," read a comment
New Delhi:
Sridevi's elder daughter
Janhvi Kapoor turned 21 on March 6
, just 10 days after the superstar accidentally drowned at a hotel bathtub in Dubai. After days of mourning the celebrated actress, Janhvi's birthday was the first time in days that the Internet spotted her smiling in photos from her the intimate gathering. But a section of the Internet found it insensitive on Janhvi's part to celebrate her birthday within just a few days of her mother's death. Not just Janhvi, but the other Kapoors who were with her on her 21st birthday - Khushi (Sridevi's younger daughter), Sonam and Rhea Kapoor, Shanaya, Jahaan and Anshula Kapoor - were also trolled for sharing the birthday photos on social media. Janhvi's half-sister Anshula (daughter of Boney Kapoor and Mona Shourie) planned a close-knit family dinner for the aspiring actress on her birthday.
"What's the hurry to celebrate the b day just 1 week after cremation, they could not postpone their celebration after 13 days is so surprising, moving on is important but please at least wait for the mourning period to get over. Nobody is asking them to be sad and crying all the time. It's the timing of posting such a pic is what is odd," wrote an user on a group photo of the Kapoor cousins shared by Sonam while another added: "Touchwood, but if I would have lost (someone close), I would not be smiling for photos the way she is doing. No offence for anyone here."
Such comments are not restricted to Sonam's post but also arrived in plenty on photos Instagrammed by Anshula and Maheep Kapoor (Sanjay Kapoor's wife). Another comment on Sonam's post highlighted how Sonam should have restrained from sharing photos of Janhvi's birthday: "The problem is not the celebration but the self-awareness of being a celebrity. Your family have been in the spotlight for decades now but you still haven't learned the responsibility of being public figures. If you wanted to cut a dozen of cakes then go ahead do it privately not showing off to the world upsetting fans who are still mourning the death of someone from YOUR FAMILY!"
Trolls will always be trolls but there were many who jumped to Janhvi's defence on Instagram: "Happy to see her trying to cope. Janhvi, don't let idiots tell you you're a worthless person, because you're not, you're one to strongest person I've seen. Happy birthday!"
Earlier on her birthday, Janhvi visited an orphanage just like Sridevi used to do. She began the day with a heart-felt post written in the memory of her mother: "On my birthday, the only thing I ask of all of you is that you love your parents..." is how she began.
Janhvi Kapoor is all set for her debut in Bollywood. Directed by Shashank Khaitan and produced by Karan Johar,
Dhadak
will mark Janhvi's entry to Bollywood. She co-stars with Ishaan Khatter in the movie.
It was late night on February 24 when Sridevi died in Dubai. She was brought to Mumbai three days later and cremated with state honours on February 28.