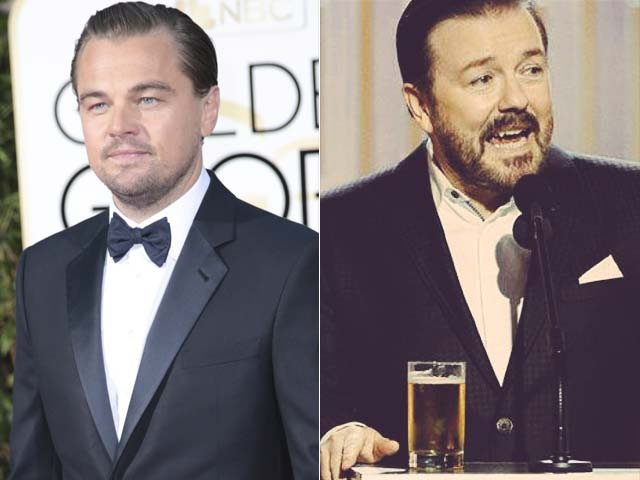 California:
The Golden Globes worked hard Sunday to live up to its reputation as the most unserious of Hollywood's major awards stops, as stars spewed profanity from the stage, the host swigged beer, many presenters appeared discombobulated and A-list dinner guests disengaged early on. (Also Read:
Golden Globes: Lady Gaga's Coming Through. Leonardo, You're in the Way
)
Oh, and some trophies were given out.
Television awards consumed most of the first half of the ceremony, with USA's fledgling <>Mr. Robot winning the Globe for best drama, beating the HBO juggernaut
Game of Thrones
. Christian Slater won best supporting actor for the series, which peers into the dark corners of the Internet.
Amazon's
Mozart in the Jungle
, focused on a charming New York conductor, found surprisingly strong support. The series won best comedy - dethroning Amazon's
Transparent
- and Gael Garcia Bernal won best comedic actor. He was one of the (very) few non-white winners on Sunday.
On the film side,
Steve Jobs
, which flopped at the box office, was a repeat winner. Kate Winslet won supporting actress for her portrayal of an Apple marketing executive, while Aaron Sorkin collected the Globe for best screenplay.
But Ricky Gervais, returning as host for the 73rd Globes, set the tone for the night in his monologue, which mocked Caitlyn Jenner, included a crude joke about Jeffrey Tambor's genitalia and called the Globe a "worthless" prize. (Also Read:
Golden Globes: Ricky Gervais Returns as Host, Provokes Hollywood
)
"It's a bit of metal that some nice, old, confused journalists wanted to give you in person so they could meet you and have a selfie with you," he said, admonishing winners not to grow emotional. "That's all it is." The Globes are awarded by the 83-member Hollywood Foreign Press Association, a group of mostly freelance journalists.
An apparently gobsmacked Lady Gaga, winning best actress in a limited series or TV movie, didn't get the message. "I feel like Cher in that John Patrick Shanley film
Moonstruck
right now," she said. "It's one of the greatest moments of my life." She added, "I wanted to be an actress before I wanted to be a singer."
With his supporting actor win for
Creed
, Sylvester Stallone appeared on his way to a trip to the Oscars for playing an aging Rocky. He thanked the producers, who first took a chance on "a mumbling actor" back in 1976 and a cavalcade of Warner Bros. and Metro-Goldwyn-Mayer executives. (In a faux pas, Stallone forgot to thank his director, Ryan Coogler; he returned to the stage during a commercial break to add Coogler to the list, but Twitter was still incensed.)
Matt Damon, in a widely expected win, was named best actor in a film comedy or musical for his role in
The Martian
. "I know how lucky I am to do this for a living," said Damon, whom Gervais had introduced earlier in the show as "the only person Ben Affleck hasn't been unfaithful to."
The Hungarian film
Son of Saul
," set at a Nazi concentration camp, was awarded best foreign film, as expected.
The Hateful Eight
took the Globe for best score; Quentin Tarantino, the film's director, accepted the award on behalf of the composer Ennio Morricone. The best song Globe went to Sam Smith and Jimmy Napes for "Writing's on the Wall," from "Spectre," the latest James Bond movie.
"A massive thank you to Barbara Broccoli," Smith said, referring to the producer who controls (with her half-brother) the Bond franchise.
Denzel Washington, winning the Cecil B DeMille lifetime achievement prize, took the stage saying that he had lost his speech. He finally found it, thanking the press association, his wife and his agents, past and present, before becoming unable to read his notes and trying (unsuccessfully) to borrow a pair of glasses.
"God bless you all," he said, hurrying off the stage.