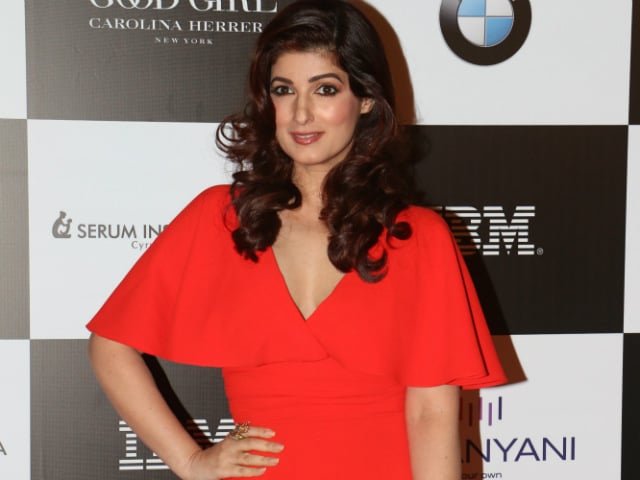 Highlights
'We don't need GST on our sanitary pads,' said Twinkle
'Ladies stop (fasting) because it's clearly not working,' she added
'Botox unfortunately does not make you look younger,' she also said
New Delhi:
Twinkle Khanna. 'nuff said, actually. Once again, Twinkle proved that her secret superpower is to make a room (no matter how big) full of people and a major chunk of the Internet (
those who get her sarcasm
) and folks like us (who love Twinkle in general), laugh. At the recently held Vogue Women Of The Year Awards, Twinkle won the Opinion Maker Of The Year title and followed up her big win with a sarcasm-laden speech - brief, but on point.
Twinkle's speech
had all the ingredients to go viral and touched down on topics ranging from the country's scientific achievements and age-old beliefs to botox and dad jokes. Twinkle herself chuckled during her speech, particularly before point number #8. Our personal favourite is #5 which goes like this: "God could not be everywhere, so he created mothers. And, the Devil could not be everywhere so he created mothers-in-law."
Twinkle was actually sharing the 10 most important lessons she has learnt over the past decade and on the top of her list was a hilarious take on ageing. Here's to all the women and bras ageing gracefully: "It's true that we get more comfortable in our skin as we get older but that's also because the poor thing is not as tight as it once used to be." This was followed by a sarcastic dig at the government's decision to tax sanitary napkins as part of the newly improvised GST regulations. "We don't need GST on our sanitary pads. What we need instead is an alarm inside it - not a vibrating one - that'll set us off on a different path altogether, but an alarm nonetheless that warns us of imminent overflow and saves us the 100 trips we make to the bathroom just to check," she said.
Those women fasting on Karva Chauth, here's an observation from Twinkle: "Ladies, stop because it's clearly not working." This is how she explained her point: "...On the mortality charts there are 147 countries above us where their men outlive our good old Indian dudes." In another advice, Twinkle added the perks of not getting botox: "It just makes you look like you're part of a secret alien invasion, desperately, trying to fit in with the humans."
Here's a customary dad joke because, Twinkle Khanna: "Our satellite only reached Mars because it was called 'MOM.' I'm certain that if it was called 'Dad,' it would still be circling the Earth. Lost, but not willing to ask for directions."
Now, that was something. We have only hand-picked the best but you can watch Twinkle's
full speech here
.
Twinkle also features on one of the special covers of Vogue India's October issue, along with Anushka Sharma, Sonam Kapoor and Karan Johar. On Sunday evening, she turned heads at the
Vogue Women Of The Year Awards
in a scarlet ensemble from the studios of Gauri and Nainika. Vogue India is celebrating its 10th anniversary.
Sunday's Vogue Women Of The Year Awards was also attended by Shah Rukh Khan and his wife Gauri, Aishwarya Rai Bachchan, Shweta Bachchan Nanda, Anushka Sharma, Sonam Kapoor, Anil Kapoor, Kriti Sanon, Arjun Kapoor and other celebrities.
Twinkle Khanna, a columnist and entrepreneur, is married to actor Akshay Kumar and the two are
parents to two children
- Nitara, 5, and Aarav, 15.