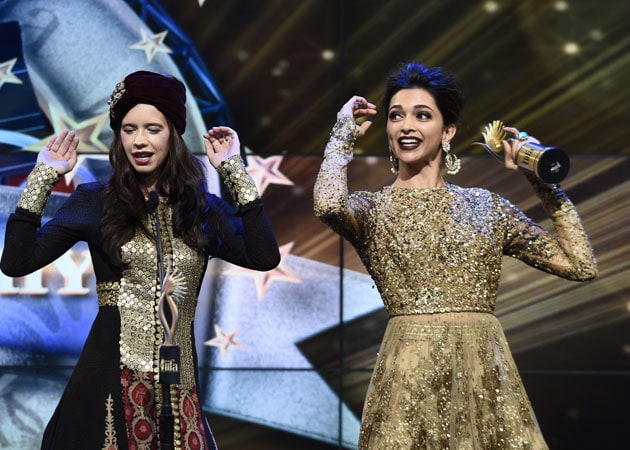 Highlights
The Bollywood brigade certainly was in the mood to play dress up on the green carpet at the IIFA Technical Awards in Tampa Bay, Florida on April 25.
Bipasha Basu and Parineeti Chopra both sported lighter locks and Parineeti explained what was behind her new look: "I've just decided to be more experimental. I've always played it safe and I can't exactly try out new looks by myself at home so I decided to try it out here."
Clearly, the need to try something new was in the air and experimental can often mean edgy as it clearly did for newbie Vaani Kapoor.
Best Actress nominee Deepika Padukone, however, had no reason to experiment. After all, why fix what is working perfectly? The actor was every inch the golden girl in gold Sabyasachi. Deepika may have looked calm and collected on the green carpet but she claims that isn't going to last for long.
"I'm very calm tonight but tomorrow I'm going to have the jitters. I am performing plus there are three nominations," Deepika told us.
Hrithik Roshan, on the other hand, doesn't seem too nervous about this first performance in the US in a decade and even promises fans a treat that's ten times the fun. Here's hoping Hrithik keeps his promise
Tampa Bay, Florida:
The Bollywood brigade certainly was in the mood to play dress up on the green carpet at the IIFA Technical Awards in Tampa Bay, Florida on April 25.
Bipasha Basu and Parineeti Chopra both sported lighter locks and Parineeti explained what was behind her new look: "I've just decided to be more experimental. I've always played it safe and I can't exactly try out new looks by myself at home so I decided to try it out here."
Clearly, the need to try something new was in the air and experimental can often mean edgy as it clearly did for newbie Vaani Kapoor. (Also read:
IIFA Fashion Police report
)
Best Actress nominee Deepika Padukone, however, had no reason to experiment. After all, why fix what is working perfectly? The actor was every inch the golden girl in gold Sabyasachi. Deepika may have looked calm and collected on the green carpet but she claims that isn't going to last for long.
"I'm very calm tonight but tomorrow I'm going to have the jitters. I am performing plus there are three nominations," Deepika told us.
Hrithik Roshan, on the other hand, doesn't seem too nervous about this first performance in the US in a decade and even promises fans a treat that's ten times the fun. Here's hoping Hrithik keeps his promise.
Watch: