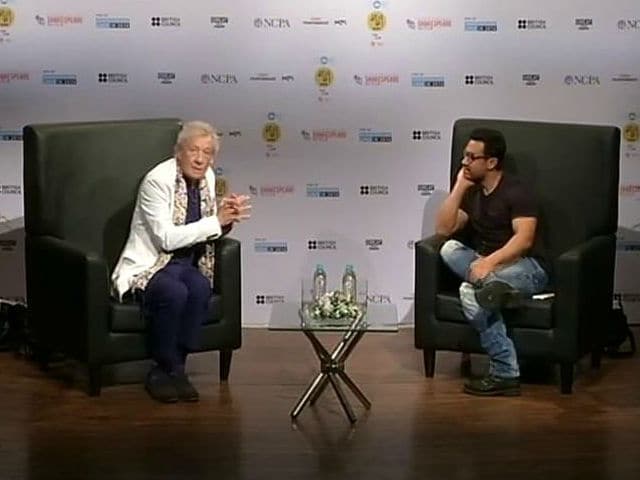 Highlights
Sir Ian is known for his role in Lord of The Rings and X-Men series
He has played Richard III, Macbeth and Iago from Shakespeare's plays
Aamir Khan also has a Shakespeare connect
New Delhi:
Monday isn't normally this special. This week began with Sir Ian McKellen visiting Mumbai and, specifically, chatting with Aamir Khan about everything
from Shakespeare
to
being homosexual
. Sir Ian is now beloved across generations as Gandalf from the
Lord of the Rings
films and the older Magneto from the
X-Men
franchise. But the 76-year-old actor built his career playing Shakespeare on stage - particularly lauded were his performances as Richard III, Macbeth and Iago.
Aamir, 50, also has a Shakespeare connect - his breakout film
Qayamat Se Qayamt Tak
was based on
Romeo and Juliet
.
Here are five big quotes from Sir Ian McKellen from Monday's masterclass:
On his sexuality
Being a gay man at a time when it was against the law, it did inhibit me. When I had a love scene with a girl - if it had been with a boy I would have been fine.
On Section 377
Presumably they had to pass it because there was so much homosexuality around. I've seen the statues!
On Romeo and Juliet
We've all fallen in love and probably with the wrong person. Juliet's father was trying to organise an arranged marriage. (To audience) You know what that means.
On how Shakespeare handles politics
Shakespeare shows that the Kings, the Presidents, the powerful are frail. He shows us that they should be challenged and questioned
On India
First thing I heard of India was 1947. We celebrated in our house. Gandhi was revered. Second thing I knew was Shakespeare-
wallah
s.