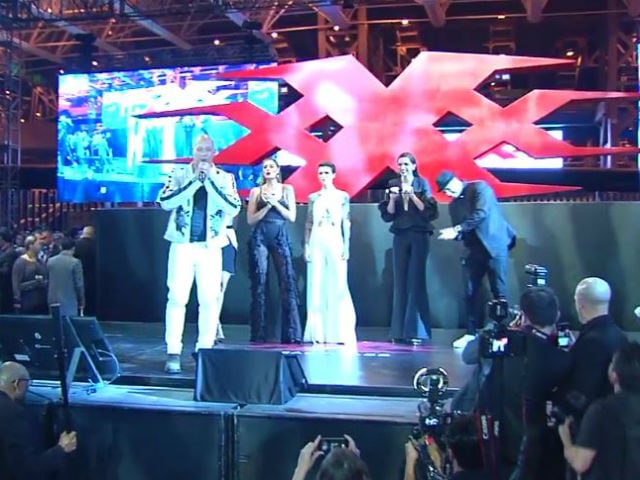 Highlights
Deepika is making her Hollywood debut with xXx: The Return Of Xander Cage
Deepika was at the Mexico premiere of the film
Deepika's film releases in India ahead of the rest of the areas
New Delhi:
Deepika Padukone
was spotted at the Mumbai airport earlier this week and then at the premiere of
xXx: The Return Of Xander Cage
in Mexico on January 5. Deepika rung in her birthday on Friday and blew thirty one candles out. There were wishes galore for the
xXx
actress but what made her day truly special is perhaps a melodious wish from her
xXx
co-star Vin Diesel. Deepika was accompanied by her
xXx
team at the Mexico premiere of the film and they all joined Vin to sing 'Happy Birthday' for Deepika. Meanwhile, the actress stood by and blushed. The celebrations was drawn to a close with a hug shared by the
xXx
co-stars.
Watch Vin Diesel sing for Deepika:
Vinsanity at the Mexico Premiere! Vin cast sing @DeepikaPadukone Happy Birthday! #xXxWorldPremiere#xXxTheMoviepic.twitter.com/zKBphmSKXc

— xXx Return of Xander (@xxxMovie) January 6, 2017
Earlier, Vin Diesel also wished Deepika on Instagram. "Happy birthday to a truly amazing soul. So talented, stunning and regal. Blessed to know you and call you a real friend," Instagrammed Vin.
Earlier this week,
Deepika addressed Vin Diesel
with a tweet written in Hindi, in which she welcomed him to India and announced what seems like the film's probable promotion dates. In the tweet she wrote: "India is frantically waiting for you. We'll meet soon - on January 12 and 13." She signed off on behalf of everyone saying: "With lots of love." Deepika also shared a poster of the film along with the tweet.
विन,
इंडिया बेसब्री से तुम्हारा इंतज़ार कर रहा है! जल्द ही मुलाकात होगी, १२ और १३ जनवरी को!
हम सबका ढेर सारा प्यार! pic.twitter.com/VYqJ76WkjG

— Deepika Padukone (@deepikapadukone) January 3, 2017
Earlier this year, Vin Diesel, who plays the protagonist in
xXx: The Return of Xander Cage
, revealed that Deepika made a demand after she came on board for the film. She wanted a premiere of her
maiden Hollywood film in India
ahead of its worldwide release, reported news agency IANS. "When Deepika first met us to talk about the role she said, 'If I do this role you have to promise me one thing that we do a premiere at India'. And just last week we were scheduling a premiere in India for January 2017," the
Fast And Furious
actor said in an interview.
Vin Diesel, 49, reprises his role as the trained government operative who comes out of self-exile to battle a deadly villain in possession of a mass-destructive weapon. Deepika Padukone,
features as Serena Unger
- a highly classified secret operative, who is also skilled in battle combat.
Back home, Deepika plays the protagonist in Sanjay Leela Bhansali's ambitious period drama
Padmavati
, co-starring Ranveer Singh and Shahid Kapoor. Deepika has also shot a special sequence for the film upcoming film
Raabta
, starring Sushant Singh Rajput.